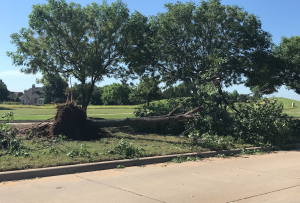 The town of Flower Mound and city of Highland Village are cleaning up Thursday after a storm downed trees and power lines late Wednesday night.
Flower Mound
The storm was not severe as it headed south toward Flower Mound around 9 p.m. Wednesday, but it escalated over the town, according to a town news release. Preliminary information from the National Weather Service indicated that Flower Mound experienced 60-65 mph winds that were either straight line winds or a micro burst.
Fire Department personnel along with Streets and Drainage crews worked to clear roads of downed trees Wednesday night and into Thursday morning. After getting all roads cleared, Public Works is returning to chip the downed trees and limbs Thursday, according to the town.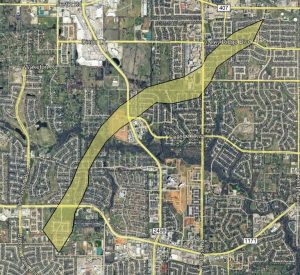 Most of the damage that's been seen or reported has been in western Flower Mound, around the areas of the Bridlewood subdivision, Lusk Lane, and High Road, as well as Stone Hill Farms and around Marcus High School, according to the town. The Roanoke Fire Department is flying their drone in the area hit the hardest by the storms Thursday to further assess damage.
A water main break on High Road, south of Rolling Hills, disrupted service to about 150 homes.  A streetlight at the corner of Timberhaven and Timber Trail was hit by lightning during the storm and caught on fire. It was severely damaged and has been reported to Oncor for removal and replacement, according to the town. There were numerous downed power lines as well, which have been reported and are in the process of being repaired.
The town is asking residents with downed trees or tree limbs in the right of way to call the town's Customer Relations Division at 972-539-7378 and crews will respond to remove the portion of the trees in the right of way. All downed trees and tree limbs on private property are the responsibility of property owners.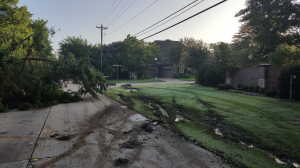 Residents who have storm debris will still need to follow the town's bulk and brush guidelines on their regular trash pickup day. Bulk items must be no larger than 3 feet by 3 feet by 12 feet. Brush must be cut in lengths not to exceed 4 feet. Brush must be bundled and tied and cannot exceed 50 pounds per bundle. For more information about these guidelines, click here.
Highland Village
In Highland Village, city employees worked to get the roads cleared by about midnight after estimated 50 mph winds caused 15 roadways to be impacted by downed trees.
The city is working with Waste Management to get some roll-off dumpsters into town for residents to bring their debris, according to a city news release. The city will release more information about the dumpsters when it can. For residents who will wait for Monday's yard waste pickup, they have the following guidelines from Waste Management:
Residents are allowed up to 20 bundles and bags of yard waste. Bags must be brown paper kraft bags. Bundles must be no longer than 4 ft and no heavier than 35 pounds in weight.
Should residents have more material than allowed for the Monday Yard Waste collection, they're allowed a once per month trip to the DFW landfill for disposal of up to 3 cubic yards of material (one level standard pickup truck bed). They will need their driver's license and a current water bill with the same address to confirm residency. Also, by Texas State law, all materials must be tarped.
Residents can request a pay pile at Home.wm.com/highland-village under the Bulky Collection tab.
If residents leave out more materials than specified, WM will leave a tag notification of excess materials. WM will collect the excess on the next Monday. If residents choose to place the material out to be serviced with their garbage, WM asks that it be bagged or in a container and limited to 10 bags/containers as per the residential service agreement.
Also, several city parks were damaged, according to the city's Parks and Recreation Department.
Lower Sellmeyer Park is closed due to storm damage, and crews are working to have it open by Monday, according to the department. There are about four large trees blocking the entrance that are unsafe and need to be removed.
Village Park has damage crews are working to have it cleaned up by this afternoon. Unity Park and the Dog Park has damage that crews are working on.
If you see other areas in the city of Highland Village in need of the city's attention, you can report it on the Eye on Highland Village app or here.
Other Areas
The first storm debris dumpster arrived at Double Oak Town Hall on Friday. The dumpsters are only for the use of Double Oak residents.