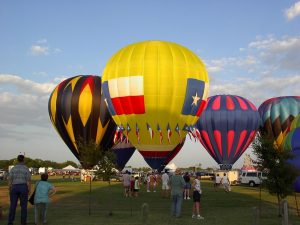 Preparation for the largest scheduled event in Denton County is progressing, as organizers met with the city of Highland Village on Tuesday to get the permit for the 31st Annual Highland Village Lions Balloon Festival, to be held Aug. 17-19 in Unity Park.
Last year's event had an estimated attendance between 15-20,000 people.
One major change for this year's event will be with the off-site parking, said Barbara Fleming. This year, parking will be at the Lewisville ISD sports fields at 2800 Dixon Lane in Flower Mound. Denton County Transit Authority buses will provide free rides to and from Unity Park from 4-11 p.m. on the first two days. Parking is free, but a suggested donation of $5 would be appreciated.
Organizers are still accepting sponsorships, Fleming said, but late sponsorships will not be listed on the t-shirts.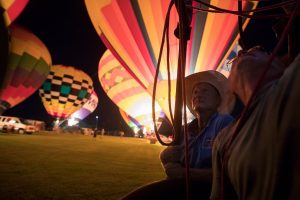 Fleming said Wednesday that 15 hot air balloons are registered for the event. Nationally-recognized Pat Cannon will be the Balloon Meister, and Glen Moyer will again be the balloon commentator. There will be two morning balloon ascensions, and two evening balloon flows and ascensions.
In addition to the balloons, the event will feature live music, food vendors, about 80 arts and crafts vendors, tethered balloon rides and the Kids Zone, which includes the Boogie Woogie Choo Choo, petting zoo, bounce houses and climbing wall. There will be on-site vision screenings and eyeglass collections.
The opening ceremony will be held Aug. 17 at 6:30 p.m. with State Senator Jane Nelson. The band Good Therapy will perform that night, and the band the following night will be Van Goh's Ear. A car show with about 100 entries will take place on Aug. 18.
Click here for more information.