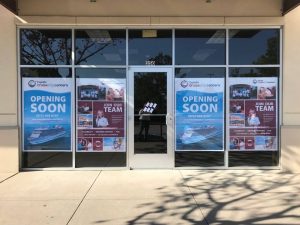 Town Manager Jimmy Stathatos announced three new businesses coming to Flower Mound during the Town Council meeting on Monday.
Opening soon in The Pines at the intersection of Gerault Road and FM 3040 is Expedia CruiseShipCenters at 1221 Flower Mound Road, Suite 350.
The franchise, owned by Flower Mound resident Tom Muench, is a full-service travel agency offering sea, land, air, hotel and car travel options.
To contact them, call 877-900-7070 or visit: cruiseshipcenters.com/en-US/900218/Contact.
At the northern end of town at 3809 Justin Road (FM 407), Suite H, is a branch of the Dallas-based Shade Works of Texas.
The family-owned and operated company specializes in energy-saving retractable sun shades, awnings and shading products to utilize outdoor kitchens, patios and pool areas better, even in the extreme heat of the day.
They manufacture, sell and install interior and exterior roll-down, retractable shades, solar shades and retractable awnings for any home or business, with a simple turn of a crank, or push of a button.
For more information about the company and the products and services, visit the website: shadeworksoftexas.com or call 972-638-0812.
Finally, Archway Hypnosis will open at 3000 Corporate Drive, Suite 300 in Flower Mound.
Owner Barbara Ross of Highland Village is a certified clinical hypnotherapist and has been in practice since 2005.
Her areas of expertise include: transforming limiting thoughts and self-sabotaging beliefs; releasing fears, panic and anxiety; overcoming negative habits or patterns; facilitating physical and/or emotional healing and well-being; career transitions; experiencing more restful and rejuvenating sleep.
She also helps with a variety of issues including: weight loss; quitting smoking; depression; public speaking; pre-op and childbirth; fears and phobias; and self-confidence issues.
For more information on her practice, visit: archwayhypnosis.com or contact her at: 214-415-1877, or email: [email protected].