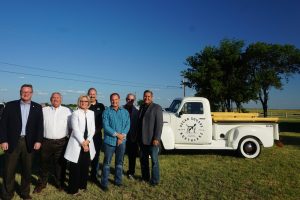 Pecan Square, a future Hillwood Communities development in Northlake, celebrated its groundbreaking last week.
Hillwood announced in November that it had closed on Pecan Square, its largest residential development. The $1.5 billion mixed-use, master-planned community will consist of more than 3,000 homes, including 609 lots in the first phase.
On 1,157 acres near the southwest intersection of I-35W and FM 407 in Northlake, Pecan Square will include a mix of commercial retail, educational and residential uses, highlighted by home prices ranging from $270,000 to the $500,000s on a variety of lot and home sizes.
The grand opening of Pecan Square is scheduled for fall 2019.
Eight builders have been selected for the development representing a variety of products from 40-foot lots to one-acre lots. The builders include Ashton Woods, CalAtlantic Homes, DR Horton, David Weekley Homes, Highland Homes, Perry Homes, Plantation Homes and Pulte Homes.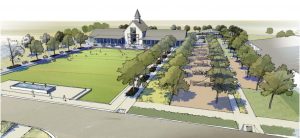 Honoring Northlake's rural heritage, two rows of 200 pecan trees will be preserved. Hillwood says the homes in Pecan Square will feature state-of-the-art technology that will offer residents the comfort of modern living in a rural setting. Reminiscent of a classic Texas town, the community will be centered around "The Square"—a destination at the end of a long boulevard lined with heritage pecan trees, ideal for the entire town to come together. A new community center inspired by the iconic horse barn will rise in its place and will feature a lounge, resort-style pools, event areas, open green spaces and a fitness center. Available to the greater community will be a parcel delivery space as well as a co-working facility perfect for those in the area who office from home. An existing 22,000 square foot horse arena will be completely redesigned to become a fresh venue for community gatherings and special events, according to a Hillwood news release.
In the early planning stages, Hillwood invited several key stakeholders of the town of Northlake to better understand issues most critical to the residents, the news release said. The concerns discussed included on-site schools, traffic, transition of density and respecting the rural character along FM 407. During last week's Town Council meeting, Hillwood Communities revealed the vision of the development and presented how it addressed these very issues.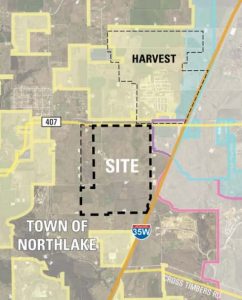 "From the very beginning of Pecan Square's planning and design process, Hillwood Communities has taken into careful consideration all that is important to the Town of Northlake. And by complying with our town's comprehensive land use plan, Hillwood is setting Northlake up for viable, long-term growth," said Northlake Mayor Peter Dewing. "Instead of taking a cookie cutter approach to designing this community, Hillwood is delivering a unique and special neighborhood suited for diverse, multi-generational living. We are excited to see Pecan Square in the making and are looking forward to welcoming future residents to Northlake."
Pecan Square will add to Harvest's existing 20,000 square feet of neighborhood retail, which will include the new Northlake Town Hall, medical offices, restaurants, salon and daycare. These services join 7-Eleven which opened its doors to the community in April of this year.
"We are excited to continue our partnership with the town of Northlake to drive conscious growth, support economic development, and provide communal spaces for the town to gather," said Fred Balda, president of Hillwood Communities. "We at Hillwood take pride in creating community—not just within the boundaries of our master-planned developments, but among key stakeholders beyond the neighborhoods we serve."
For more information on Pecan Square, click here.