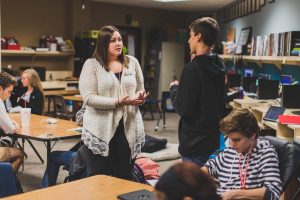 When a tragedy happens in a community, heavy hearts seek ways to help — even from miles away.
In the wake of the February shooting at Marjory Stoneman Douglas High School in Parkland, Fla., Marcus High School Journalism Teacher Allison Miller felt compelled to help, but wasn't sure how.
"You can give money to help a natural disaster, rebuild a home, school or community, but that wasn't the case for this school," Miller said. "It doesn't matter what's going on, because journalism doesn't stop in the face of tragedy."
Initially, Miller wanted to raise money to ensure every Stoneman Douglas student and staff member would receive a yearbook this school year. However, that original plan changed, after an impromptu GoFundMe campaign she created quickly grew attention and the needs of the newspaper and yearbook staffs were realized.
"You still have to tell the stories, and I didn't want the school to stop and wonder if they had enough money or if they needed to stop production to go sell ads to print enough issues," Miller said.
Working closely with Walsworth Publishing Company, the same yearbook publishing company MHS uses, as well as ongoing communication with Stoneman Douglas journalism advisers Melissa Falkowski and Sarah Lerner, Miller and her students were able to determine the needs of the Stoneman Douglas journalism program. All monies raised would now directly support the school's journalism program — from funding a special newspaper issue to commemorate the victims and highlight the tragedy's heroes to purchasing new equipment like cameras and computers.
As plans came together and campaign funds grew by the thousands, major news outlets across the country began to take notice.
"Then, I was contacted by Yahoo and CNN, and a couple other people who wanted to write about it," Miller said. "I will talk to anyone who wants to talk about it because I want to get the word out."
Knowing the importance of high school journalism coupled with the time and effort required to produce a publication, MHS students recognized the significance of Miller's fundraiser.
"The money raised will give their journalism students an opportunity to tell their story in a greater way," MHS senior Angelina Amilibia said. "Now knowing Ms. Miller put the fundraiser together, really put things into perspective for me, it's important to give to a cause to help students and their families have a way to remember their friends."
While generous acts of kindness like what Miller sparked cannot erase the pain, by supporting the Stoneman Douglas journalism program, the legacy of the lives lost that day will always be remembered.
To date, the campaign has raised $47,602, which is only $2,398 away from the its $50,000 goal. Originally, the goal was set at $30,000, but after Miller spoke with Falkowski and Lerner, and heard the needs of their department, she decided to increase the goal.