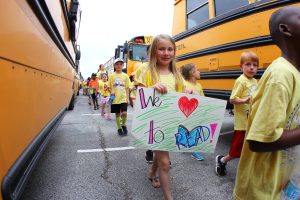 E.P. Rayzor Elementary has done it again.
Students at the Lantana elementary school have booked their way to victory in this year's Texas Motor Speedway Speeding To Read competition.
E.P. Rayzor, along with B.B. Owen Elementary School in The Colony, repeated as co-champions in the year-long educational program.
The schools had 100 percent of their students reach their reading goals in all four of the turns of the competition and posted perfect seasons for the second consecutive year.
For E.P. Rayzor, it is the Denton ISD school's fourth consecutive championship in Speeding To Read.
E.P. Rayzor and B.B. Owen dominated among the 21 Dallas/Fort Worth elementary schools and 12,061 students – both program records – that participated in the competition. Those two schools, along with the top individuals and classrooms, will be honored at the Speeding To Read Championship Assemblies on May 22-23 at Texas Motor Speedway.
Verizon IndyCar Series drivers Scott Dixon and Gabby Chaves will be the special guests for the Frontstretch Conference assembly on Tuesday, May 22 and NASCAR Camping World Truck Series driver David Gilliland will appear for the Backstretch Conference assembly on Wednesday, May 23.
In the Turn 4 competition, fifth-grader Carter Fine of Lakeview Elementary in Trophy Club (Northwest ISD) was among the top individual readers during the final two-month scoring period.
For more information on Speeding To Read,  visit www.speedingtoread.com.