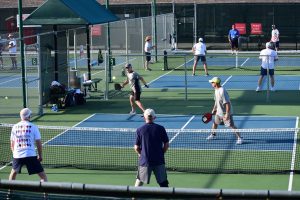 Robson Ranch hosted the Quad States Senior Open Pickleball Tournament May 8th through 10th on its 16 outdoor pickleball courts.
Pickleball is a paddle sport similar to badminton and tennis.
More than 200 participants descended on Denton from 14 states as far away as Idaho and Florida.
Competition was broken down by age groups, skill levels and open to male, female and mixed play.
Medals were given in 21 categories with winners ranging from 50 to 80 years of age.

Submitted by Richard Goodwin