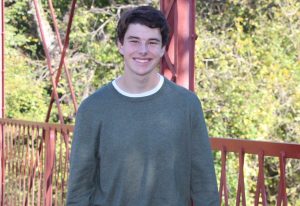 Cole Shiflet already knows his life's calling.
"Being involved allows me to share the love of Jesus with others and invest in other's lives," he said.
The Liberty Christian senior is part of the mentoring program IMPACT, as well as the third baseman on the Warriors varsity baseball team, but it is in two other programs that he feels the most fulfillment.
Shiflet, 18, is referring to his involvement in an organization called Be Lifted, a student-led bible study of which he is a co-founder.
"Be Lifted allows me to empower students and bring glory to God by proclaiming the gospel to those who need him," Shiflet said. "In the spring of my sophomore year, four freshmen approached me with an idea to build an iPhone app to encourage students in their faith. Two years later, God has done crazy things, and we now have bible study groups at schools across the DFW Metroplex and have three subprojects that empower students to grow in their faith."
Shiflet is also a Spiritual Life Intern– which plans mission trips and other Spiritual Life events– and carries a 3.84 grade point average on a 4-point scale.
The Denton teen said he believes that the fellowship among today's young people is inspiring and said that simply being a teenager allows for a great opportunity to help others.
"There are so many opportunities to step up and make a difference," Shiflet said. "Other students are more willing to talk to another student about their faith than they would with a teacher or adult."
Shiflet said the best part of attending LCS is its Christian aspect.
"Liberty has so many opportunities to serve/lead spiritually," Shiflet said. "From Bible studies to mission trips, this school has equipped me to share the gospel with the world."
The Liberty Christian student has not decided on college yet, but said that he already knows what he would like to do for his career.
"I would like to go into ministry and work at a church," Shiflet said. "I feel like God has gifted me with specific gifts and passions that would allow me to work in a pastoral role in the future."
Shiflet's Favorites
Favorite Subject: Social Studies
Person who most inspires me: John Piper
Favorite Food: Waffles
Book currently reading: "Crazy Love" by Francis Chan
Nominate your favorite student for this monthly feature brought to you by Texas Health Presbyterian Hospital Flower Mound by emailing [email protected].