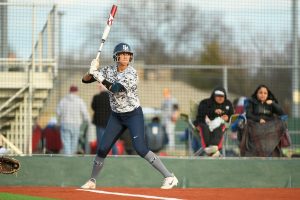 The "Lesko death stare" is legendary among the Flower Mound High School softball crowd.
"Generally, I am a pretty laid back person," Megan Lesko said. "But, when it comes to practice and games, I definitely wear my 'game face.'"
The Flower Mound High School senior's love for the sport goes back a long, long way and Lesko said she actually grew up playing volleyball and soccer as well.
"I am passionate about all the sports I've played," Lesko said. "But, when I first stepped in the box for the one-on-one battle with the pitcher and had a successful hit, I knew this was my game."
Lesko has become one of the strongest offensive players the Flower Mound High School softball team has ever fielded, and when the Lady Jaguars first baseman steps to the plate—she means business.
Lesko finished the regular season with eight home runs, seven doubles and a triple. Coach Mark Larriba said she's among the greatest offensive players to ever don a Flower Mound uniform.
"Megan is one of the best hitters we have ever had," Larriba said. "I think she is in the category of [former Jaguars] Taylor Hoagland and Sydney Springfield.  Definitely, she has just as much if not more power than them."
Lesko has committed to East Central University for softball and has helped the Lady Jags number 13 State ranking– according to the Texas Girls Coaches Association– and 21-7 overall season record.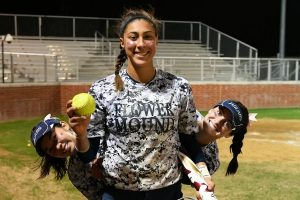 "Megan is an athlete who plays with passion and love for the game," Larriba said. "She's kind of an 'old school' athlete, who puts in extra after practice and just loves the game. When she was in sixth through eighth grades, she would have her parents take her to all of our games including the out of town games. We knew then she was going to a special player."
Lesko said she was flattered that Larriba would hold her in such high regard as a hitter and attributes her offensive success to great coaches, who taught her discipline and commitment, along with a strong work ethic.
"You can find me hitting in the cages after practices, after homework is complete and weekends," Lesko said. "I carry my bat, bucket of balls and tees in my truck at all times, as you never know when another opportunity to practice will come up."
For all of her offensive prowess, Larriba said Lesko is one of the Lady Jaguars' best defensive players as well.
"What impresses me about her is her athleticism," Larriba said. "Megan probably would be playing shortstop for us, if we didn't have Kendall Jennings (Oklahoma State commitment).  Megan is the best first baseman defensively we have ever had.  She has made more outstanding plays at first than anyone we have ever had."
Lesko said her goals for this season are to be an impact player and help the Lady Jags make a good showing in the playoffs; and, have a fun time doing it.
The Flower Mound senior said once she has moved on to college and beyond, she hopes that she is viewed as a player that did whatever she could to help her team be successful.
"I would like to be remembered as a hard-working, competitive, disciplined, coachable and supportive teammate who has a fun side," Lesko said. "Together we're better, always and forever."