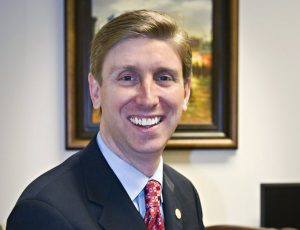 Flower Mound's state representative, Tan Parker, announced Thursday that his office is now accepting applications for the Texas Armed Services Scholarship Program, a scholarship program that affords each member of the Texas Legislature the opportunity to annually appoint a student to receive a college scholarship, according to a news release from his office in the state House.
Applicants must be dedicated to participating in Reserve Officers' Training Corps programs while attending a Texas college and meet specific eligibility criteria in order to receive an initial award, the news release said. Depending on available program funding, a recipient may receive the annual scholarship for up to four years.
"Serving our country is one of the most honorable and important decisions made," Parker said in a prepared statement. "This scholarship program provides area students who wish to achieve their goal of military service with an incredible opportunity to further their education and also receive the training necessary to prepare them for a successful future."
To be considered for nomination, an applicant must meet two of the following four academic criteria:
Be on track to graduate, or has graduated high school with the Distinguished Achievement Program or the International Baccalaureate Program;
Have a high school GPA of 3.0 or higher;
Achieve a college readiness score on the SAT (1070) or ACT (23);
Be ranked in the top one-third of the prospective high school graduating class.
Once an applicant meets the above requirements for nomination, a scholarship recipient must be enrolled in a Texas public or private accredited institution of higher education, remain a member of an ROTC program while attending school, and graduate with a degree within six years while maintaining academic standards. Additionally, the recipient must enter into an agreement requiring a four year commitment to the Texas Army National Guard, Texas Air National Guard, Texas State Guard, U.S. Coast Guard, U.S. Merchant Marine or as a commissioned officer in any branch of the armed services of the United States following graduation.
For more information on the scholarship program and to initiate the application process, contact Rep. Parker's District Office at 972-724-8477 or email Trish Robinson at Patric[email protected]. Interested students may also visit www.hhloans.com to learn more details about the program. The deadline to apply for an appointment from Representative Parker's office is July 17.