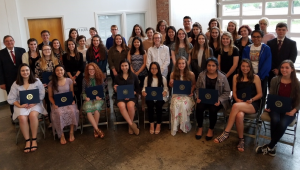 A Flower Mound High School student recently won the grand prize in the 26th Congressional District art competition.
U.S. Congressman Michael Burgess (TX-26) announced the winner of the sixteenth annual art competition on Tuesday, according to a news release from Burgess' office. The art competition was open to public, private, and home-schooled high school students residing in or attending schools in Burgess' district.
Lauren Foster, a junior art student of Michelle Harper at Flower Mound High School, won the Grand Prize in the 2018 competition with her color photograph entitled "American Spirit."
"This contest is designed to highlight the artistic achievements of our local high school students and to share the results of those talents with our area and the rest of the country," said Dr. Burgess."Lauren's work makes the 26th District proud. She is a very talented young woman with a tremendous gift."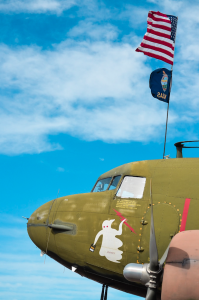 Burgess honored the finalists at a reception Tuesday at the Patterson-Appleton Art Center in Denton hosted by the The Greater Denton Arts Council. The juried competition was judged by professional artist Millie Giles.
For the seventh year, entries were submitted digitally by art teachers on behalf of their students, according to the news release.  This provided an opportunity for a "Texas Choice" winner to be selected by popular vote in a virtual gallery on Burgess' website. Cecily Anderson was the winner of this category for her artwork entitled "Scooter." She is a junior at Keller ISD's Timber Creek High School in Fort Worth and her art instructor is Camille Kerr.
In addition, the jurist reviewed the posted artwork and determined the contest finalists based upon artistic merit. She selected a "Best of School" Award for one student from each school based on her appraisal of their work. The Juror's Award was based on her appraisal of artwork that had a high level of artistic merit and execution ranking under that of the Best of School Award. These students also were finalists in the competition.
The 57 finalists delivered their artwork to be physically and visually judged for Grand Prize and First Place. The finalists were publicly recognized at the reception by Burgess with a Certificate of Congressional Recognition.
As the Grand Prize winner, Lauren will have her artwork displayed for an entire year in the U.S. Capitol and has the opportunity to attend the national ceremony in Washington, DC in June. The ceremony will honor the winning artists from congressional districts all over the country.
In addition, Maddie Thorn, a junior at Marcus High School in Flower Mound and a student of Melissa Bellevue, won First Place for her colored pencil drawing entitled "Eagle." Maddie will have her artwork displayed in Burgess' Lake Dallas district office for the next year.
"Congratulations to Lauren, Maddie, and Cecily for their creative achievements," said Dr. Burgess. "I was pleased to bring this worthwhile art program to the high school students of the 26th District and look forward to next year's competition."