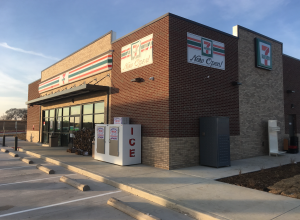 The Bartonville Town Council will soon consider approving a proposed 7-Eleven gas station and convenience store near Marty B's.
The town's Planning & Zoning Commission voted unanimously Wednesday night to recommend approval of the proposed site plan. At the next Town Council meeting on May 15, the council will likely vote to approve or deny the site plan.
The proposed 7-Eleven would be located on a 1.3-acre lot in the southwest corner of FM 407 and I.T. Neely Drivc, just south of the Marty B's restaurant. It is on the northeast corner of the Yeti Addition, and is located in the Village Center zoning district, according to the meeting agenda. The convenience store with retail gasoline sales use is permitted in that zoning district.
The project was found to be in conformance with all applicable town regulations, and it was replatted via a Minor Replat in conformance with the Town's Subdivision Ordinance. The site plan submission conforms with the town's Comprehensive Plan, and the building elevations' design is also in conformance.
Entry would be possible from I.T. Neely and from FM 407. A right-turn deceleration lane on FM 407 will be completed in the near future, according to the town.
Bartonville Town Manager Michael Montgomery said the applicant hasn't indicated if the 7-Eleven just down the street would close if the proposed one is approved.