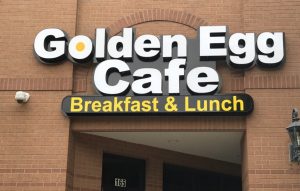 The Bartonville restaurant space recently vacated by Savory Bistro will soon be back in business.
Savory Bistro Gourmet to Go in the Bartonville Town Center closed its doors for good on March 23. Just a few weeks later, the owner of a Denton cafe picked up the required Certificate of Occupancy forms and Health and Food application to take over the former Savory Bistro location, according to the town of Bartonville.
Biko Begaj was the owner of the Egg House Cafe in Denton, but he sold it to  open the new Golden Egg Cafe former Savory Bistro spot.
The Golden Egg Cafe will be open for breakfast and lunch. It is expected to open sometime in May.