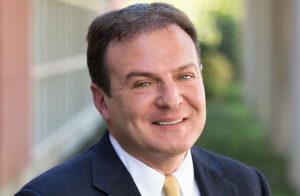 As my term as mayor comes to a close, I thank Flower Mound residents for giving me the opportunity to serve as mayor of their Town.
Bobbie Mitchell, the former Mayor of Lewisville– who now serves as one of Denton County's Commissioners (Precinct 3)– often said, being mayor is the best job a person can have; and I echo her sentiments. The opportunity to see meaningful impact for both individual residents, as well as the town as a whole, is an experience that I wouldn't trade for anything.
Reflecting back on the last six years, perhaps what I am most proud of during my tenure as mayor is the continued improvement in the morale of those who work for the town. I would also like to express my appreciation to the Flower Mound Town Council members I served with during my term: Jean Levenick, Brian Rountree, Bryan Webb, Steve Dixon, Mark Wise, Kendra Stephenson, Mike Walker, Itamar Gelbman, Kevin Bryant, Don McDaniel, Jason Webb and Claudio Forest. It is truly a thankless job, and we all should be grateful for their commitment to Flower Mound.
With this likely to be the last Mayor's column I pen, I thought it would be interesting to compare the current state of Flower Mound with the goals I had for the Town's future, when I first sought to be elected as mayor in 2012.
For many years, Flower Mound's tax base was primarily– if not almost exclusively– based on residential property taxes. Municipalities receive two-percent of the sales tax dollars collected. One percent of that goes to the Town's General Fund, with the other one-percent is left up to the voter's discretion. In 2008, Flower Mound voters elected to use the discretionary one-percent to help fund police and fire services (each receiving a quarter of that one-percent), with the other two quarters designated for our roadway maintenance. It quickly became clear to me that in order to take full advantage of our sales tax revenue, the town needed to grow its commercial tax base, which is exactly what we've done for the last six years. Great efforts have been made to keep our sales tax dollars within Flower Mound's borders, rather than using it to help with projects outside of our community.
Economic Development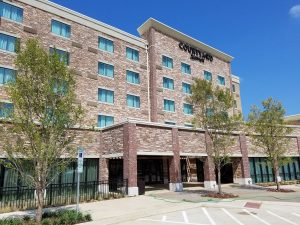 With the Council's focus on economic growth, the results for our town have been rather staggering.
In the last six years, more than 700 new businesses have opened in Flower Mound and roughly 100 have closed. This brings the total number of businesses operating in Flower Mound to 1,350 commercial businesses within our borders.
There are approximately 6.7 million-square-feet of commercial space occupied in Town; of that, 5 million-square-feet has been constructed within the last six years. Flower Mound currently has 16.7 million-square-feet of commercial space available.
Even with this substantial growth of commercial space, commercial vacancy rates have fallen from of 18-per- cent in the 2009-2010 timeframe, to approximately two-percent today. More than 97-percent of Flower Mound's available commercial space is occupied. Businesses have been moving to Flower Mound as fast as space is becoming available; this includes for net new businesses moving to Parker Square.
76 new restaurants now call Flower Mound home, since I was elected in 2012, not to mention 125 new medical practices, as well as other new retail, office and entertainment venues. And certainly something we all can smile about, Flower Mound has its first hotel, the Courtyard by Marriott Dallas Flower Mound.
Here's a big accolade – In 2014, CNN Money Magazine named Flower Mound No. 2 on its national "Best Place to Find a New Job" list. Second best place in the country, yes the country, to find a job. We haven't disappointed.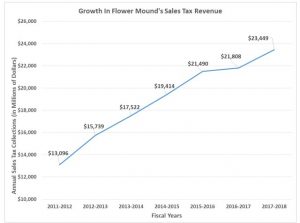 Since 2012, over 11,000 new jobs have been introduced to Flower Mound, with an attrition rate of 900, for net increase of over 10,000 new jobs in Flower Mound since 2102. Just think about that; 10,000 new opportunities in Flower Mound, with only modest growth in the Town's population rate. Instead of people driving out of Flower Mound for employment, they are now driving into Flower Mound for work. We are finally seeing headlights instead of tail lights.
Of these 10,000 net new jobs, the breakdown is approximately 3,700 professional; 2,400 restaurant, retail and service jobs; and approximately 5,000 manufacturing, distribution, and/or ware- house jobs located predominantly in the Lakeside Business District.
It has been a tremendous time of economic growth in Flower Mound. So what does all this mean for Flower Mound residents? First, you don't have to drive out of Flower Mound to find a good meal or shop at some of your favorite stores. It has also allowed our town the opportunity to grow our staff, offering competitive compensation for firefighters, police officers, public works officials, and more. This has greatly increased the Town's employee retention; and at the end of the day, happier employees make for a hap-pier community.
Next Steps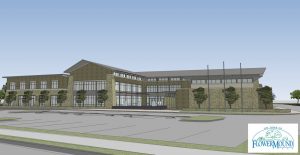 Another reason it's important to keep tax dollars in Flower Mound is, because in doing so, it allows for improvement in overall quality-of-life for our residents.
In 2012, one of the things many of us wanted to do was build a senior center for our residents. It had been a goal of the local senior citizens and Council members for more than a decade. The new state- of-the-art Flower Mound Senior Center celebrated its grand opening in May 2015. Seeing this vision become a reality for our senior population was truly gratifying. Since it has opened, membership to the Seniors In Motion program has increased from several hundred, to well over 2,000, with programs and services being added all the time.
For years I have been bringing up the need for a new Flower Mound Town Hall, but it was often dismissed sim- ply because of the scale of the project and the funding that would be required. It has finally happened. If you haven't driven by the intersection of Morriss and Cross Timbers Road in a while, you'll be blown away by the amazing facility taking shape there. The new Town Hall will bring over staff from engineering, planning, and environmental services into one building, while also doubling the size of the current council chambers.
I'm also very proud of the numerous park improvements that have been made over the last six years. When first elected, I remember our previous Town Manager telling me it was important to emphasize the Town's trail system. It was– and continues to be– one of the things Flower Mound is known for, and when elected the trails remained a focus of top prior- ity. Since 2012, Flower Mound has in- creased the number of completed trails from roughly 25 miles to now more than 60 miles of completed trails.
An additional emphasis of the last several years has been improving the existing parks. Approximately $1.2 million has been put toward individual park improvement projects since 2012, adding new amenities like pavilions, picnic areas, shade structures, added parking, and more. Fourteen playgrounds have also been received new themed playground equipment since 2012.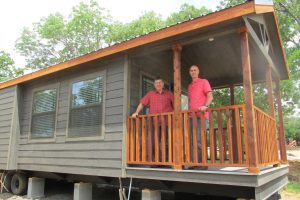 Twin Coves Park reopened new and improved in July 2017, now home to 19 fully furnished cabins, a playground, pavilion, bonfire pits, small craft launch, fishing pier, and much more. Don't take my word for it – if you haven't visited Twin Coves Park recently, it's a must see!
I have been fortunate enough to see three of the four phases of the Heritage Park improvement project come to fruition. Phase I brought the Fort Wildflower community built playground and large pavilion, Phase II included the boardwalk and fishing area as well as the town's first dog park, and Phase III which has just been completed includes awesome amenities like a performance pavilion, and a fully shaded splash pad.
Another goal I had when I was elected in 2012, was enhancing the Flower Mound Public Library. I'm pleased to see the 2017-2018 fiscal year budget included the design services that will begin the process of renovating the 25,000-square-foot Library; and, also add 15,000-square-feet to the building, which will make way for new meeting rooms, additional storage and staff work areas, as well as more adult/child/teen areas.
Mobility and ease of transportation in Flower Mound has always been a top priority of mine. With the completion of not just one major roadway project, but two over the last six years, FM 2499 reconstruction into Grapevine, as well as the FM 1171 expansion project, I can't step down as mayor without thanking Bobbie Mitchell and Andy Eads. Without their continued efforts, these major improvements to our roadways would not have happened.
I also worked with Marilyn Lawson, founder of Keep Flower Mound Beautiful to get the Lend-a-Hand Community Enhancement initiative rolling in Flower Mound. If my estimations are correct, roughly 15 homes have been spruced up in Town, which boosts neighborhood esthetic appeal and the community as a whole.
Finally, when elected in 2012 I really wanted to be accessible, and involved with those that call Flower Mound home. This is how "Mornings with the Mayor" was born – allowing me to be in these neighborhood's each month, answering questions, offering help with an issue, and getting to know the wonderful residents of Flower Mound on a more personal level. There were times when 40 – 50 people came to Mornings with the Mayor, other times just 2 – 3 people spent their Saturday morning with me, but each interaction was special.
Thank you for choosing me as your mayor, I look forward to continue serving this community I love in the future.