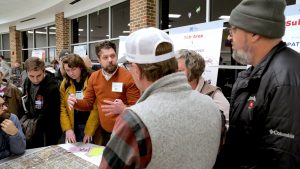 The city of Denton is hosting open houses to engage residents about the new zoning map component of the Denton Code 2030 project, including updated zoning districts for all Denton properties.
The draft zoning map is an important piece of the overall effort to make comprehensive updates to the Denton Development Code, according to a city news release. The DDC outlines the rules and processes that regulate where and what type of development can occur. Through Denton Code 2030, the City is working to update the DDC to be more customer-friendly and provide a strong foundation for all development in Denton.
As part of the update to the DDC, zoning districts were consolidated, renamed, and developed to better fit with the community vision, goals, policies and strategies identified in the Denton Plan 2030.
"Updating the zoning districts and developing a new zoning map are integral steps in the Denton Code 2030 project," said Scott McDonald, Denton's director of development services. "And the draft zoning map represents a change, even if it is a minimal change, for every property owner in Denton."
To roll out the draft zoning map and other DDC updates, the city is hosting seven open houses throughout April and May. All citizens are invited to attend any of the meetings.
"We want every property owner to be aware of the Denton Code 2030 project, the draft zoning map, and what changes will impact their property," said McDonald.  "We also want to provide ample opportunities for engagement, feedback, and discussion, so we invite every property owner to attend any or all of the open houses."
There have already been two open house meetings, and there will be five more in the next two weeks:
Wednesday, May 2
8 a.m. to 5 p.m.
Development Services Center
215 W. Hickory St.
Thursday, May 3
8 a.m. to 5 p.m.
Development Services Center
215 W. Hickory St.
Monday, May 7
6 to 8 p.m.
Embassy Suites by Hilton Denton Convention Center
3100 Town Center Trail.
Thursday, May 10
6 to 8 p.m.
Sam Houston Elementary
3100 Teasley Lane.
Saturday, May 12
9 a.m. to noon
Denton Civic Center
321 E. McKinney St.
For more information about Denton Code 2030 and to provide feedback, click here.