Not everyone is fortunate enough to find a life's passion and the talent to pursue it at eight-years-old; but Anita Robbins is one of those lucky few.
"When I was eight, my uncle was going to school to get his art degree and I got to tag along sometimes and paint," said Robbins. "He told me I had some talent, told me I was a 'born artist' and encouraged me."
After her early discovery, Robbins continued to paint for fun through high school. Eventually, she graduated with her degree in Fine Art from Brigham University.
As a watercolorist, she found a master artist in that medium with whom she studied– Willie Wong and his Kamena Gallery in Edmonton, Alberta, Canada. The artist, born in Malaysian Borneo, studied Art in Southeast Asia and Southern China. For the past 27 years, he has taught all mediums, but specializes in pencil, acrylic, oil and, especially, watercolor techniques.
"He has an orchid garden [Devonian Garden] where he teaches and he helped me learn how to perfect my water drops [her claim-to-fame]," said Robbins.
As a successful artist, her paintings have been featured on such varied outlets as the cover of the Hawaiian phone book and eight covers for two popular book series, to a painting hanging in the headquarters of Great Wolf Lodge as the winner of the contest they held when opening their Grapevine facility. She has had an art book written about her and has herself become a mentor to other professional artists– one of whom flies in from Lubbock on a regular basis– just as Wong mentored her.
"At one point, I was painting three paintings a day for eight hours every day for two years to sell them online," said Robbins. "I expanded to acrylics and was working with the [original] owner [Kathleen House] of the Studio Art House and got to focus working with talented students identified by their art teachers at school, who don't have the extra time to give them."
The Studio Art House was opened in 2000. Robbins and her husband, Martin– previously a wedding photographer– became the owners in 2012. They work closely with North Texas school districts and PTA/PTO groups with camps and such special projects as the annual national Reflections Art Project. It includes various forms of art, including: dance choreography; film production; literature; music composition; photography; visual arts; and special artist division.
The 2017-18 theme was "Within Reach," which began in October, during National Arts & Humanities month. The 2018-2019 theme is "Heroes Around Me."
"We have kids with special needs, plus Asperger's and [the entire] autism [spectrum], that we work with in an environment that helps trigger endorphins.," said Robbins. "In our adult classes we have students who need us, like those with Parkinson's or brain injuries, almost anyone needing therapy; even moms who need a 'break.' There are people out there who need us."
The staff previously worked with 110 students doing a paint project for Premier Academy in Keller. Teachers at the Art House will also work with aspiring artists to prepare their portfolios for college applications. According to Robbins, seeing them develop their skills and build their self-worth and confidence is one of the most rewarding aspects of the job.
The 10- to 14- staff-members (more during the summer months) of degreed artist/teachers conduct classes year-round, with a structured curriculum– designed by Robbins– in everything from drawing and painting to sculpting.
"After we became the owners of Art House, I chose to use my curriculum, which is 'alive' and is based on technical basics and focuses on different mediums– watercolor, acrylic, oil," said Robbins. "This semester we're doing sky and clouds, plus the technique for spherical objects– like an air balloon. Learning how to hold a brush properly, depending on which medium you're working in, is a basic technique 'muscle memory' to learn and creating a spherical object on a flat surface is something to learn."
Lessons in artistic techniques combine with a study of art history for a well-rounded educational experience.
"Our adult classes run all day long and into the evening," said Robbins. "Also, we have classes from ages 3-1/2-years-old and up and offer camps, workshops and private parties."
The parties last from one- to three-hours and the cost includes all materials and clean-up.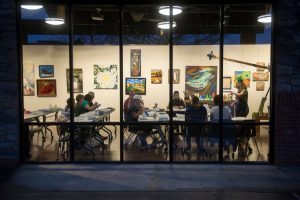 Art House offers several three-hour art camps for kids ages 5-16, where they work on specific art projects across all kind of mediums. Registration for their summer camps will begin soon.
The entire staff– including Robbins– travel between their three locations, as well as taking their mobile Art House to retirement homes, senior centers and community activity centers.
"We recently held a team-building activity for Stryker Corporation," said Robbins.
She and her staff also work with local artists competing in an annual contest to select a winner from approximately 500 contestants for a U.S. postage stamp design.
"Last year there were 20 finalists statewide in the State Fish Art Contest– Texas has one of the largest contests– and this year we have 45 entries," she said, adding the results are announced at the end of June.
"A number of our former students, even our own staff, have careers in art," Robbins said. "We have students now in costume design and other theater or Hollywood jobs– one who is even designing prosthetics– or anything in any application that requires a design, there are hundreds of art-related jobs."
"The Highland Village location is much larger than the other two [Flower Mound and Southlake]," she said. "It has its own fine art gallery with original art from many local artists ranging from bronze sculptures, steampunk art, precious metal jewelry, paintings, glass, wood, metal and more. Mostly, they're not our students; mainly local professional artists in need of a showcase setting. One is an artist during the day with James Avery and outside she sets gems in old watches; another is a potter from Sanger and there's also a bronze-sculptor from Frisco."
Art House also hosts week-long and weekend workshops with well-known national and international artists."
Marty Robbins revealed he and Anita have had many requests to franchise the Art House and are working on creating a franchise model.
"The model will outline the supplies, building, lighting … all the physical needs involved, while the curriculum is open; but they [franchisees] need to follow guidelines and then how to teach it," he said.
There's an old adage that says: "Those who can, do; those who can't, teach."
Anita Robbins is the exception to that; she does both– beautifully.
Studio Art House facilities are located at: 2608 Long Prairie Road, Ste. 205 and 6100 Long Prairie Road, #800 in Flower Mound; and 631 East Southlake Boulevard, Suite C in Southlake.
For more information about the Studio Art House, its events and classes, or to register for their many options, visit: www.studioarthouse.com.