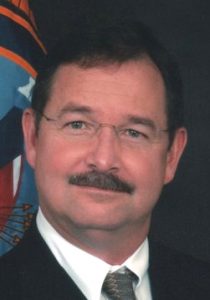 Congratulations to Lieutenant Ruben Rivas on completing the FBI National Academy leadership development course located in Quantico Virginia.
On March 16, 2018 Lt. Rivas received his diploma from FBI Director Christopher Wray. We are incredibly proud of Lt. Rivas' accomplishment and excited to have him back home to serve the citizens of Double Oak.
The National Academy is a ten week program where students receive training in ongoing law enforcement issues, employment law, constitutional law, physical fitness and leadership. It is an internationally respected training program in which promising police leaders are identified, nominated and given the privilege of working and learning with the finest police commanders from around the world.
The National Academy was created in 1935 in response to a study that illustrated the need for standardization and professionalization in law enforcement departments throughout the U.S. Twenty-three students took part in the first training session which included the study of criminal investigation techniques, scientific aids in crime detection, report preparation and administration/organization. Courses in espionage and sabotage were added during World War II (www.fbi.gov/services/training-academy/national-academy).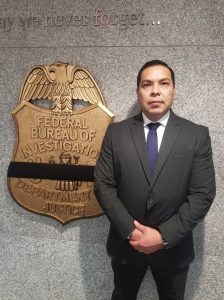 That first class in 1935 has grown to a training course for approximately 250 law enforcement leaders conducted four times a year. Veteran FBI agents, accomplished career law enforcement members, college professors, attorneys, military personnel and physical fitness trainers combine their skill sets to present high level and topical training. Subjects have been as diverse as current counter-terrorism trends, leadership in law enforcement organizations, written statement analysis, issues in forensic science, media relations, and current legal trends regarding employment law, liability and use of force.
Students leave home and live on site in dorm rooms with usually four officers per two room suite. Physical fitness training is rigorous and the course begins and ends with a physical fitness assessment and completion of the Quantico/Marine Corps obstacle course along with a six mile run. During the course officers wear the traditional academy khaki pants with green shirts and remain in that uniform for the duration of the training. Contacts made with other police commanders, FBI agents (veteran and those in training), and the exchange of ideas and experiences are invaluable.
While studying at the academy students receive academic credit through the University of Virginia and are able to use those transcripts to further their journey to obtain an advanced degree in criminal justice.
On behalf of Lieutenant Rivas and the Double Oak Police Department thank you to the citizens for supporting his attendance at the National Academy.
Recent Police Calls
02-23-18 – Possession of Drug Paraphernalia – 100 blk. La Vista Lane, Double Oak – During the conduct of a traffic stop the investigating officer smelled the odor of marijuana and subsequently recovered drug paraphernalia. The motorist was cited and released at the traffic stop location.
02-24-18 – Suspicious Activity – 100 blk. Kings Rd., Double Oak – A resident reported an unknown person pounding on their front door at approximately 2:55 a.m. The on-duty officer responded and was unable to locate the suspect.
03-04-18 – Disturbance – 500 blk. Cross Timbers, Double Oak – At approximately 8:58 p.m. office responded to a disturbance between two parties who know each other. No offense was committed.
03-10-18 – Suspicious Circumstances – 200 blk. Timberleaf Dr., Double Oak – A resident was leaving home at approximately 4:44 a.m. and noticed a dark colored pickup truck, with an occupant, parked in front of the house with its engine running and no movement from the motorist. Upon further investigation it was determined that the driver was a newspaper delivery person who had stopped to take a quick nap on their route.
03-11-18 – Suspicious Activity – 6000 blk. Plantation Ln., Double Oak – An unknown person contacted the Complainant via cellphone and left two voice mail messages that she owed money to the Internal Revenue Service and that there could be serious consequences if she didn't respond. Complainant did not call the person back and, as an alternative, filed a police report.
03-11-18 – Suspicious Circumstances – 100 blk. Lake Trail Dr., Double Oak – Residents reported an unknown adult female wandering their neighborhood and smoking. Reporting Person found it unusual that the person knocked on their door and asked for a cigarette.
03-11-18 – 911 Hang up – 400 blk. Cross Timbers Dr., Double Oak – Officer responded to a 911 hang up call and upon arrival found an ongoing disturbance between family members. Disturbance was verbal in nature and was quelled when two of the parties voluntarily left the residence.
03-13-18 – Disturbance – 6600 blk. Hawk Rd., Double Oak – Officer responded to a dispute between two family members. One of the parties left before officer's arrival.
03-13-18 – Assist Agency – 700 blk. Cross Timbers Dr., Double Oak – Officers were asked to assist Denton County Probation Officers with a home visit.
03-14-18 – Assault – 200 blk. Simmons Rd., Double Oak – Complainant reported that they had been punched in the jaw by a known person. Suspect fled the scene before police arrival.
03-14-18 – Suspicious Vehicle – 300 blk. Whispering Oaks Dr., Double Oak – At approximately 9:40 p.m. a resident reported that an occupied Chrysler 300, black in color, had been parked in front of their residence for approximately twenty minutes. The unknown vehicle/motorist left before officer's arrival.
03-15-18 – Agency Assist – 1100 blk. Frenchtown Ln., Bartonville – A Double Oak Officer responded to a citizen's report that they arrived at home and found that their front door had been kicked open by an unknown person(s). DOPD and a Sheriff's Deputy searched the house and then waited for the arrival of an off-duty Bartonville Police Officer.
03-19-18 – Welfare Check – 300 blk. Waketon Rd., Double Oak – Officer checked on teen's welfare and met with parent.
03-20-18 – Theft – 400 blk. Cross Timbers Dr., Double Oak – A contractor allegedly took advance payment for a detached garage and then declined to complete the work after the foundation was poured and framing was installed. Offense is currently under investigation.
03-21-18 – Disturbance – 800 blk. Cross Timbers Dr., Double Oak – Officers responded to a call to assist with a distraught family member.
03-25-18 – Disturbance – 100 blk. Victory Ln., Double Oak – Officers responded to a disturbance in which two brothers were fighting. Disturbance was quelled when one brother was transported from the scene by a parent.