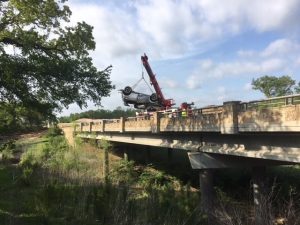 The driver who rolled over a car Thursday morning in Flower Mound is going to be OK, according to police.
Flower Mound Police Captain Shane Jennings, a police spokesman, said the female driver was headed south on Garden Ridge Boulevard about 6:45 a.m. when her car left the roadway south of FM 3040, just before the vehicle reached the bridge and ongoing construction.
The car traveled down the embankment and came to a stop upside down below the bridge. The driver was taken by air ambulance to a Denton hospital, where she will recover, Jennings said.
"Investigators went there and interviewed her," he said. "She's hurt, and it will take time to recover, but she is in good condition."
Both directions of the road were shut down until about 10:30 a.m., Jennings said.