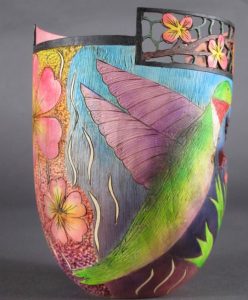 By Tom Lohr and Elizabeth Brannon
An interesting thing to observe at art shows and festivals is how the work of two people employing the same medium can be so drastically different.
Joel Rubin and Tom Lohr are both wood turners who fit that mold.  Joel, a former General Surgeon who now practices as an Emergency Room Physician, concentrates more on decorative pieces.  Tom concentrates more on functional pieces with a decorative flair.
Eighteen years ago, after experiencing several injuries skydiving, Joel began looking for another hobby.  He took classes featuring various power tools at a local woodworking store, but was most intrigued with the lathe.  Joel started out, as do most woodturners, making bowls.  The surgeons mind took over, and Joel wanted to find other more complex things he could create.  He began attending regional and national symposiums and taking classes from nationally known woodturners.
Looking at Joel's work today, it seems the artist with the most profound influence on Joel was the late Binh Pho.  Binh, who after many attempts, finally escaped Vietnam as one of the boat people and arrived in the United States in 1979.  Joel's pieces using Binh's techniques of turning thin walled vessels, then piercing them to develop complex patterns, and painting them with an air brush are quite simply, gorgeous.  All of the processes involved are tedious and require great patience.
Joel said that he gets bored doing the same thing all of the time so he creates some functional items.  He glues a variety of different woods together to make unique salt and pepper mills.  Using the same variety of different woods, cut into small angled pieces which are then stacked together in rows, he creates patterns in what are referred as segmented bowls.  These, along with his decorative pieces, fit Joel's desire of making things that are "visually appealing".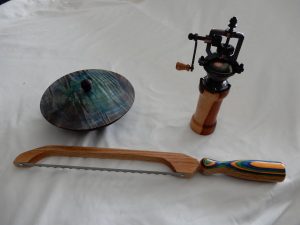 Tom Lohr's love of working with wood started in 7th grade shop class.  Tom always loved building things.  As a child he spent hours with tinker toys, then an erector set.  Shop class taught skills and techniques that were later applied to larger projects.  Working with wood also expanded the desire to build things by giving versatility to the design of projects rather than having to use the fixed size restrictions of the parts of earlier toys.
As time and money permitted, Tom slowly amassed a collection of tools, which he used to build over time, furniture, cabinets, and entertainment centers.  Tom's wife Suely, a mosaic and a fused glass artists, was an early member of the Cross Timbers Artist Guild, where several of the other members were woodturners.  They kept prodding Suely, "to get Tom to try woodturning."  All it took was taking a beginners class eight years ago and he was hooked.  As Joel does, Tom continues to attend symposiums and take classes to expand his knowledge and learn new and different techniques.
Tom's experience of building functional items like furniture are what probably leads him to take that bent with woodturning.  While most woodturners make bowls, Tom likes to decorate them after they are turned.  He uses various techniques like dye, paint and pyrography.  The desire for a little flair is also evident in the multicolored wood bases in his pepper mills and the multicolored handles of his bread knives.
Joel and Tom are both members of the local Golden Triangle Woodturners and the American Association of Woodturners.  They are members of and participate in the annual Cross Timbers Artist Guild Open Studio tour every November.