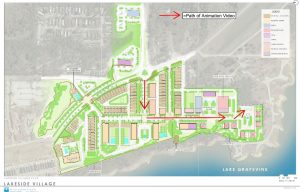 Following the March 26 marathon Flower Mound Planning and Zoning Commission– which resulted in commissioners tabling a recommendation to Town Council on the Lakeside Village development– a joint work session is set for Wednesday at 6 p.m.
The beginning section will be devoted to hearing public questions and suggestions on the development, followed by town staff and developer presentations/answer sessions. As with all work sessions, the goal is to clarify an issue and attempt to reach an informed conclusion or well-defined options.
During the Town Council meeting last night, Deputy Mayor Pro Tem Kevin Bryant encouraged residents to share their support or concerns for Lakeside Village during the workshop.
"I was thinking of the success we had with the Morriss Road work session we had and how well it went and would like to have the public input, then the presentations and a follow-up at the end," he said.
That will be the format followed on April 4.