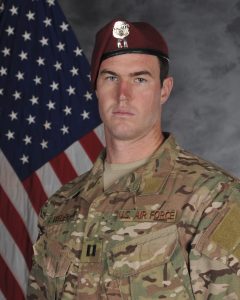 A memorial service will be held this week in honor of a U.S. Air Force Captain who grew up in Bartonville.
Air Force Capt. Mark Weber, 29, was one of seven U.S. Armed Forces members who were killed two weeks ago when a military helicopter crashed in western Iraq, according to information from Moody Air Force Base and Bartonville Mayor Bill Scherer.
A graduate of the US Air Force Academy, Capt. Weber is survived by his parents, Bartonville residents Ron and Margaret Weber, as well as four siblings: Leah Weber, currently serving overseas in the U.S. Air Force; Kathrine Weber, serving in the U.S. Coast Guard; Lori Weber, a nurse; and Kristen Weber, a writer and Christian stand-up comedian.
The memorial service is open to the public and will be held Thursday at 6 p.m. at The Village Church in Highland Village, 1700 Highland Village Road.
Capt. Weber was "regarded by all who knew him as humble, strong and reserved," said the program at his memorial service at Moody Air Force Base. "Capt. Weber was known to many as a level-headed friend who could be relied on for sound advice. He will be remembered as a courageous leader, a caring friend and a phenomenal Combat Rescue Officer."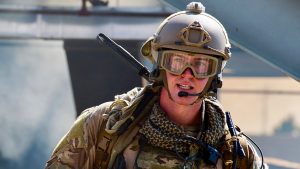 In lieu of flowers, the family has requested donations be sent to That Others May Live Foundation and the ParaRescue Foundation, organizations that support service members, veterans and family members.
Capt. Weber was commissioned as a 2nd Lieutenant in the United States Air Force in 2011 and served as a Combat Rescue Officer, according to Scherer's statement. Capt. Weber was assigned to the 38th Rescue Squadron, 23rd Wing, Moody AFB, Georgia, and was serving in Iraq in support of Operation Inherent Resolve.
Combat Search and Rescue (CSAR) pilots and crews face the most highly dangerous and hazardous missions risking their lives going into combat zones in an effort to rescue the wounded and downed pilots.
Capt. Weber also did rescue work in the United States during the hurricanes just last year.
"We are indebted to Capt. Weber's service, commitment, and sacrifice to our nation," Scherer's statement said. "Because of his bravery and selflessness, we enjoy daily freedom and security. It is our duty to honor and never forget the sacrifice that Capt. Weber made.
"The Town of Bartonville extends heartfelt prayers and condolences to the Weber family and all affected by this tragedy."