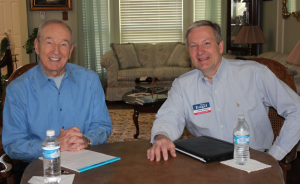 Well, as we continue inexorably toward another local election, we should be pleased to see so many courageous people get involved in the political arena, which is often fraught with the slings and arrows of outrageous social media. Running for office is not for the squeamish, so, if you have a tendency to shrink when a barrage of criticism slaps you in the face, you probably should have kept your hat out of the ring. Yet, if you can survive the irrational vitriol and the daily cheap shots it will toughen you up for the position in case you win the race.
With 3 candidates vying for the Place 4 seat on the Flower Mound Council, I called upon Don McDaniel first inasmuch as he's the incumbent. Today's interview is of candidate Jim Engel, who ran for the same seat 2 years ago. The following is from the bio he sent for this article.
"Born and raised in Michigan, I am a graduate of Aquinas College in Grand Rapids, Michigan.  After working at two local travel firms I began my career at American Airlines working in 1981. I rose through the management ranks to become the Director of Inventory Management at AA/Sabre and transitioned to Sabre in 2000 when it was spun off as a separate company. A year later I transitioned to Electronic Data Systems as part of an outsourcing contract and then to Hewlett-Packard when HP acquired EDS in 2008. My last role was an Account Business Manager where I managed the delivery of business services for two of HP Enterprise Services largest top 10 accounts generating $500M in annual revenue until October 2012 when I retired.
"A resident of Texas for 35 years, I moved to Flower Mound in 2005.  My wife Annette and I have four children and three grandchilden, all of which live in nearby communities. I have served on The Board of Adjustments/Oil and Gas Appeals since 2015 and FMPD's Citizen's Public Safety Patrol since 2016. My interests include family, travel, classic cars and town matters."
In the interview Mr. Engel talks about his reasons for running, including his views on the salient issues facing our town. Jim, who has continued to be active in the community, including having spoken at many council meetings during the past 2 years, has in the past expressed his opposition to the increased population density in Flower Mound, which resulted in the elimination of numerous trees and other natural surroundings that helped perpetuate the rural image so many residents had in mind when they moved here. The election will be held on May 6th. Early voting will begin on April 23rd and run through May 1st. For more info please check Jim's campaign website: [email protected]
Bob Weir is a former NYPD officer, long-time Flower Mound resident and former local newspaper editor.