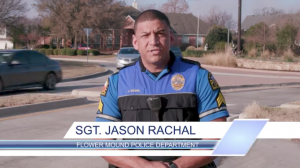 Flower Mound residents will see more roundabouts in their streets in the future, and the local police department created a video tutorial for those unsure of the rules of the unique style of intersection.
Flower Mound currently has seven roundabouts — uncommon but efficient circular intersections that require drivers to yield to vehicles to their left — and will be getting more in the near future, said town spokeswoman Molly Fox.
Roundabouts are being planned for the intersection of Waketon Road and Chinn Chapel Roads and on a future road, Jacob Lugo, halfway between College Parkway and Waketon Road. The town also plans to convert the existing multi-lane roundabout at Lakeside Village Boulevard and Lakeside Parkway to a single lane roundabout.
This week, the Flower Mound Police Department shared a tutorial video on social media, seen below:
https://www.facebook.com/FlowerMoundPoliceDepartment/videos/709893435800903/?hc_ref=ARSA-azoIRDVDCO77cQGuA7heJQjo4pyFEhH2TOm-U26EomZPwuZP4J_QDCow4fEw0k