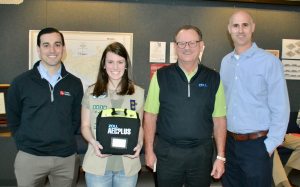 A Flower Mound Girl Scout worked for over a year to increase awareness about heart disease in women and raised funds for a local park to achieve the prestigious Gold Award.
Jillian Rash, a junior at Flower Mound High School, raised funds to purchase and donate an Automatic External Defibrillator to Flower Mound's Twin Coves Park, and she made her final heart health awareness presentation to Town Council members earlier this month.
"I think death from heart attacks are so preventable," Jillian said. "If you know symptoms of a heart attack you can be proactive and go to the hospital."
Cardio Partners worked with Jillian to identify the best AED for the park and get the best price, according to a news release. AEDs are lightweight, portable devices that delivers an electric shock through the chest to the heart, according to the American Heart Association. The shock can potentially stop an irregular heart beat and allow a normal rhythm to resume following sudden cardiac arrest.
"Cardio Partners was really excited to help and to offer our support for such a dedicated young woman," said Frank Mannino, a strategic account manager for Cardio Partners. "When I heard about her project, I knew we had to get involved … She's teaching people how to react in the event of a cardiac emergency and giving individuals a chance."
Jillian chose the ambitious project after witnessing the devastating impact of heart disease in her community and subsequently learning that heart disease is the leading cause of death among women in the United States. The American Heart Association notes that heart disease contributes to 1 in 3 women's deaths each year.
Over the course of 18 months, Jillian advocated for women's heart health awareness and helped community members learn more about how to lead heart-healthy lives.
She created a public Gold Award Women's Heart Health Awareness Facebook page, where she posted daily tips to help group members make heart-healthy decisions. She also hosted a fun workshop for Flower Mound elementary girls to teach them about heart health habits.
Even more significantly, in February of 2017 and 2018, Jillian hosted AED/CPR trainings and First Aid courses that resulted in the certification of nearly 100 individuals. During this time, she was also busy raising funds to purchase a new ZOLL AED Plus and to provide training to four Twin Coves Park employees.
"On behalf of the Parks and Rec Department and the Twin Coves staff, and anyone who goes into the park, we want to thank you for your efforts," said park manager Mark Long at the March 3 meeting. "It would be my plea to you to become certified in the AED or CPR or basic First Aid. You never know when you'll need to use it. And while I hope we never have to use it at Twin Coves Park, I know that because of Jillian's efforts, we're going to be prepared for that day."
The Girl Scout Gold Award is the highest achievement that a Girl Scout can receive. The award recognizes girls who have demonstrated extraordinary leadership and who have identified and completed projects that have a long-lasting and sustainable impact on their local community and beyond.