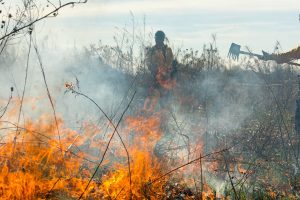 The city of Highland Village is beginning to prepare Coppers Branch Park for public use, beginning with a prescribed burn.
In September 2013, Copperas Branch Park was closed and used as construction staging area for the expansion of Interstate 35E, according to a city news release.
"Now that the expansion is complete, city crews are preparing the park for use by the public," the city news release said.
But five years without maintenance has led to substantial overgrowth in the area, so a prescribed burn is scheduled to take place between March 19-21 on about 22 acres in the park, located in the northeast corner of the city, near Lewisville Lake.
Conditions will be closely monitored to ensure it does not affect public health and safety, the news release said. The public will see numerous fire department vehicles and smoke in the area and are asked to avoid the area for safety.
The prescribed burn is a part of wild land management designed to restore the natural resource with vital nutrients and reduce dangerous fire threats. These carefully applied fires are an important tool to help restore and maintain vital habitat for wildlife and plants. This burn is part of numerous projects to restore the park to its beauty and re-open it to public access.