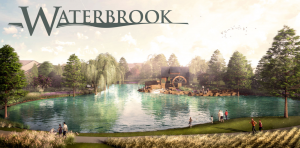 The large mixed-use development coming to the heart of Argyle, Waterbrook, is making progress.
The 105-acre development– with 287 residential lots and 191,000-square-feet of commercial and retail space — was approved by Argyle Town Council in April 2016. Much of the land, in the southeast corner of FM 407 and Hwy 377, has been cleared and work on the residential portion of the land is progressing, though it has been delayed by unusually wet weather since December.
Town Council also recently approved an additional five-acre parcel of land adjacent to Waterbrook. The developer, Terra Manna, will use that land to add three homes and four-acres of commercial/retail space to Waterbrook disclosed Terra Manna Founder Bret Pedigo.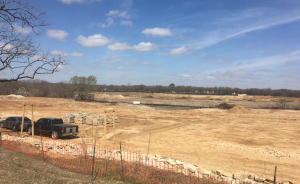 Some work has been delayed– because the property had two churches on it– and Terra Manna has not been able to demolish them yet.
Oak Hills Community Church, located on Hwy 377, will be moving into a new facility under construction on the northeast corner of 377 and Frenchtown Road, just south of where it currently stands. The new church should be completed by the fall.
Once the church has moved out of its old building, Terra Manna will demolish both churches.
"Then we can plan the retail part," Pedigo said.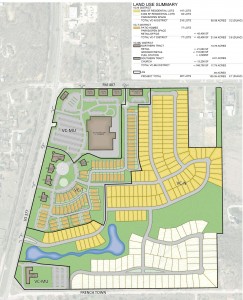 There has been interest in building restaurants and retail stores in Waterbrook. Pedigo said there is an "overwhelming demand for professional offices and medical offices that is under-served out there."
The development will be anchored by a grocery store.
Terra Manna is considering three different grocers, but it has not made a decision about which one will build there, Pedigo added. He did indicate, though, that the future store will probably be a bit smaller than a typical grocery store.
"In the grocery market, the trend is they are considering a smaller platform-store, because with e-commerce, a lot of people are ordering big bulky goods online, so stores may be designed different and smaller," Pedigo said.
The Argyle Green, a small public park on the southern-end of the property, is expected to be complete this fall, he added.
CalAtlantic Homes has been chosen as the homebuilder. Construction on Waterbrook's first homes will likely begin this summer, with the first move-ins late this year or early next year. After that, it will take about three-to-four years before the residential side is built out. Retail will likely be built out one to two years after that.