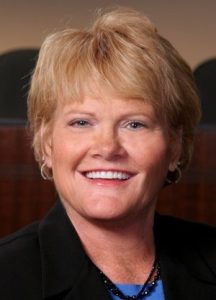 In February I had the opportunity to witness a once-in-a-lifetime experience for our Briarhill Middle School students. The school participated in a live downlink with an astronaut on the International Space Station. Briarhill Middle School teachers worked to incorporate the experience into every subject from the STEM classes to the art classes as they prepared for the live chat with astronaut Joe Acaba. These students, our very own Highland Village kids, showed us their curiosity, their intelligence, their creativity, their desire to learn and just how exceptional they are. I was so proud to be in the same room with these students.
The event also provided us the opportunity to see the full capacity of our new public safety upgrades. Last year we invested in a new computer-assisted dispatch and records management system which connects to the Denton County Radio Communication System, all radios were upgraded to a new digital radio system and upgrades to the dispatch center were made to accommodate the new systems. At this event we had multiple jurisdictions connected to our system with their own equipment and all were able to communicate with no issues. We had uninterrupted communication with these officers inside the school facility and the establishment of a secondary dispatch command post all while continuing the normal calls for service and operations. The new system works as designed and provides enhanced safety for the public, police officers and firefighters.
In November our voters approved two propositions in a bond election – street improvements and park and recreation improvements. Included in the street improvements proposition is the reconstruction of 23 streets in Highland Village. The streets will be grouped into four construction projects with engineering design starting immediately and the construction phase is anticipated to begin this summer.  Weather permitting; the goal is to have reconstruction of the 23 identified streets completed by the summer of 2020. The parks and recreation projects include the construction of a sidewalk on Highland Village Road from the Municipal Complex to Sellmeyer Lane to increase pedestrian safety and connect residents to amenities along Highland Village Road. Engineering design has begun on this project. Construction is estimated to begin late summer 2018 and complete, weather permitting, by spring 2019. The Brazos Park parking lot expansion includes constructing 50 additional spaces to the existing parking lot. Popularity of the Brazos Park fields prompted the need to add more parking spaces. The City has contracted with RLG Consulting Engineering for this project. Design work will soon begin with construction anticipated to begin this summer and complete, weather permitting, by this fall. Unity Park will see an area redeveloped to add an additional softball field, Kids Kastle will be replaced with a new but similarly-styled play area and the ponds will be dredged to remove accumulated silt and address drainage issues. The engineering and design services for the new softball field are currently under staff review. City staff is currently gathering design firm information from municipalities that have had Kids Kastle type of play structures replaced or installed. Once a design firm is selected, City staff will begin the process of community input and involvement for the design and construction of Kids Kastle.  Victoria Park walking track will be replaced once the City receives approval from ONCOR; engineering and design services have been secured.
The City will issue bonds in the amount of $7.15 million for these projects, which will not require a tax increase as a reduction in debt service has provided a window to consider new debt issuance. When we issue bonds the City seeks a new bond or credit rating. The City has been given the highest rating possible, AAA by Standard & Poors. This is a reflection of the fiscally responsible and conservative financial policies put in place by City Council and carried out by City Staff – and not just our current Council but all our previous Council members who have worked to ensure our City is responsible with your money.
I have always believed it is important to be transparent in what we do. With that in mind, we have a new initiative – the Your Tax Dollars at Work page on the City website. A Highland Village homeowner can enter their address and see how their property tax is split between the City, LISD and Denton County. We have gone one step further and provided a breakdown by City department so residents can see how their taxes fund City services.
I recently had the opportunity to join with Flower Mound Mayor Tom Hayden and Lewisville Mayor Pro Tem TJ Gilmore to provide our respective State of the City presentations. This year was Mayor Hayden's last presentation, and while we joke quite a bit with each, I am appreciative of his service to Flower Mound and his passion for the town and its people. This year, just like previous years, as the three of us share the latest information about our cities I am impressed by everything that is happening in our region of North Texas. We truly are blessed to live in such a vibrant community.
We produced a video for our presentation, The Mayor Charlotte Wilcox Show. It was done in a talk-show style format and can be viewed on the city website. We had a great time telling the story of Highland Village and highlighting the accomplishments of the last year. The theme song lyrics say it best, "I thank God everyday that I woke up feeling this way. And I can't help loving my town…" I am so grateful to have the opportunity to serve as Mayor of such a fine city.