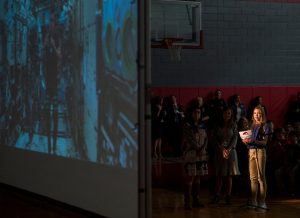 Students from Briarhill Middle School in Highland Village got to speak with a NASA astronaut aboard the International Space Station on Wednesday.
During the 20-minute, Earth-to-space call to Expedition 54 astronaut Joe Acaba, students asked questions about life aboard the space station, NASA's deep space exploration plans, and doing science projects in space.
Acaba arrived at the space station on Sept. 12 on his third space mission, and is scheduled to return to Earth later this month.
Governor Gregg Abbott, Senator Jane Nelson, state representatives Tan Parker and Ron Simmons, Highland Village Mayor Charlotte Wilcox, Lewisville ISD Trustees and officials from NASA joined about 1,000 students and teachers at Briarhill for the downlink.
See more photos from the event here.
Watch a video about the event here.
What a day! For those who weren't able to join us, or if you simply just want to experience it again, check out @NASAedu's video of our chat with the @Space_Station: https://t.co/pjAgtgqWQo. #BeyondBMS 🚀🌎

— Briarhill MS (@BMSBulldogs) February 14, 2018
.@BMSBulldogs want to know if a yo-yo works in microgravity? Watch #TeacherOnBoard @AstroAcaba demonstrate his yo-yo skills on the @Space_Station: pic.twitter.com/qpsQMDlNPE

— NASA Education (@NASAedu) February 14, 2018
Thanks to @NASAedu In-Flight Education Downlink, @BMSBulldogs were able to explore new ideas in science, technology, engineering and mathematics with an astronaut on the International Space Station. https://t.co/CLGnVlScCA pic.twitter.com/Vmxu3TT06U

— Gov. Greg Abbott (@GovAbbott) February 14, 2018
Just a normal day at Briarhill Middle School talking to Astronaut Joe Acaba on the International Space Station and visiting with the Governor and members of the NASA team. WOW!! pic.twitter.com/COSADwzq2B

— Mayor Wilcox (@mayor_wilcox) February 14, 2018
What a treat to join @BMSBulldogs and @GregAbbott_TX to skype with real-life astronauts at the @Space_Station – a great learning opportunity. pic.twitter.com/FPleSgOpIp

— Senator Jane Nelson (@SenJaneNelson) February 14, 2018
Congrats to all of the students, teachers, parents, staff, and humans @BMSBulldogs and @LewisvilleISD and @NASAedu that changed and enriched so many lives this year 🌟🌟🌟WOW! pic.twitter.com/2xxkRe0bvt

— Angela King (@kingczhistory) February 14, 2018
Excited to connect with the international space station w/Briarhill Middle school. @BMSBulldogs @LewisvilleISD @TSMiller4LISD pic.twitter.com/ehQL7pgI1a

— Tracy Scott Miller (@TracySMiller) February 14, 2018
"We have a job for you @LewisvilleISD @BMSBulldogs !" #lisdsci #lisdculture @NASA pic.twitter.com/cCpEhBtzcF

— Kim Estrada (@ElemScience) February 14, 2018