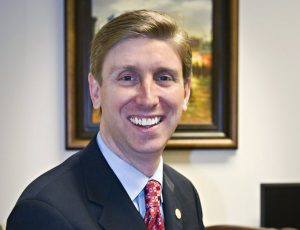 Tan Parker, the state representative from Flower Mound, filed Thursday for speaker of the Texas House of Representatives.
Parker, currently in his sixth term, said in a news release that he made the decision to run for the position "after much thought, reflection and prayer."
Parker has decided to resign as chairman of the Texas House Republican Caucus to focus on seeking the speaker position.
"I am ready to continue to serve Texas in a new leadership role bringing a unified effort for the betterment of our members and this great state," Parker said in a prepared statement. "I am also very proud of my record as Chair of the Texas House Republican Caucus and the trust my fellow colleagues placed in me over the past three years. During this time, we have focused upon the successes of our members while advancing the Republican principles that have built a stronger Texas. Today, our caucus is seen as one of the most effective, conservative bodies among legislatures in the entire country."
Currently in his sixth term, Parker represents North Texas House District 63, which includes the southwest portion of Denton County. He is the third Republican to enter the race to succeed retiring Speaker Joe Straus, according to the Texas Tribune, joining Reps. Phil King of Weatherford and John Zerwas of Richmond in the race.
Parker is also up for re-election. He was unopposed in Tuesday's Republican primaries, and will face Democrat Laura Haines in November.
Ahead of the 2019 session, House Republicans have agreed to select a speaker in the caucus and then vote as a bloc on the floor — a move that would make Democrats irrelevant in picking the chamber's next leader, according to the Texas Tribune. Before the primaries, the Texas GOP pushed House incumbents and candidates to sign a form promising to ultimately support the caucus pick — Parker and King have signed the form, while Zerwas has not.
Parker says he is "prepared to lead."
"Together, we will keep Texas the leading state for prosperity, liberty and opportunity," he said.