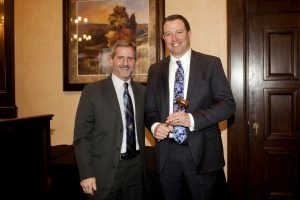 They differ in many ways and their paths rarely cross, but the chambers of commerce in Argyle and Flower Mound both have the same goal in 2018– to connect with current and future businesses better and promote their communities.
After spending most of 2017 transitioning into new leadership, the Argyle Chamber of Commerce is ready to build on some previous programs and implement new ones aimed at helping its members succeed. At the Flower Mound Chamber of Commerce, where the current leadership has been in place for several years, it's a combination of continuing successful programs while adding a few new ones.
The Argyle Chamber has a new business-like focus the Flower Mound Chamber has had in place since its inception. Here's a look at what's ahead in the New Year for both organizations:
Argyle
Early in February 2017, past Board Chair Liesel Herrera brought in Jennie Roden and LeAnn Hunsucker to manage daily operations in preparation for new Board Chair Jimmy Carrick, a vice president at Cierra Bank. He started that position Jan. 1, 2018.
Roden and Hunsucker, who each own businesses, introduced numerous changes after meeting for the first time in their new jobs. Their charge was to operate the chamber more as a business than a club.
"We've tried to be a connector in the community and are building relationships," Roden said. "We've been building a new name and a new direction for our chamber."
Hunsucker added that she and Roden have taken time to listen to what their current and potential members have to say.
"We believe we have a good idea of what we want to do moving forward so we can stabilize the group, incrementally grow and do what's best for our community," she said.
One way the Argyle Chamber is accomplishing their goal is through a complete transformation of the argylechamber.org website. Launched in late December 2017, the site allows members to get connected, communicate and promote their businesses.
There are also a new logo, mission and vision statements and stability, led by Carrick and the new Board of Directors. They currently serve 150 members; a number growing by the month.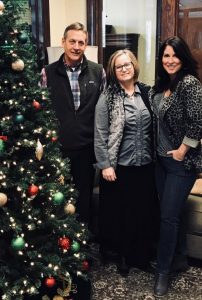 Joining Carrick on the 2018 executive team are attorney Cameron Cox, the new treasurer and legal counsel; Vice Chair and Argyle Town Manager Matt Jones; Secretary Chris Dominguez, owner of All About Babies; and, Herrera, director of community and client relations for Lawyers Title.
"One reason we needed to do this is our community is 'blowing up,'" Carrick said. "Now we're finally getting some businesses. A lot of our time spent in 2017 was spent in planning how we effectively capture this growth.
"What we really want to do is connect the people. We want people to be connected and be friends and have fun and not just be some 'networking thing' they go to. If relationships are created, then all the other stuff takes care of itself."
Another change is an increased partnership between town leadership, the Argyle Independent School District and the chamber; something not always seen in a small community.
As in the past, anyone doing business in Argyle is welcome to belong. And, some things that will continue are several events tied to giving back to area non-profit organizations and individuals. These include the Taste for Good which raised $3,500 in 2017 and funded three scholarships. There also will be a spring event, to be announced soon, plus continuing the successful Wall (Women of Argyle Leaving a Legacy) Leadership Conference. The Argyle Chamber also will remain involved with the Teacher Appreciation event in August, in conjunction with Liberty Christian School, the Argyle ISD and Selwyn School.
All future events are listed in the Upcoming Events section on the website.
"One of the words LeAnn and I use daily is 'excellence,'" said Roden. "We strive for excellence in every event, the website rollout, everything. Everybody is on the same page. Everyone is super excited."
Flower Mound
The Flower Mound Chamber has been led full time by President Lori Walker since 2013, after serving on the Board of Directors for 10 years and Board chair in 2008. She guides a nationally-accredited organization that has a five-person staff, in addition to the volunteer board and offers programs befitting a growing town of more than 70,000 people; and, a growing membership of 680 businesses.
"The economic impact of businesses on our community has been enormous the past 10 years," Walker said. "I say we're the cheerleaders for this community. We are growing, but still have that small town feel and atmosphere."
Examples of that growth include the warehouses in the Lakeside Business District, the businesses in the Lakeside DFW development and those coming to The River Walk at Central Park, including the town's first hotel – Courtyard by Marriott – that opened late last year. Those and other businesses help keep property taxes reasonable for residents and help fund top amenities, including parks and athletic fields.
Walker also is excited about the rebirth of Parker Square where the chamber offices are located. Since the arrival of North Central Texas College a few years ago– and the 2018 opening of the adjacent campus of Midwestern State University– Walker believes the complex is in the middle of a renaissance.
"I never thought in my wildest dreams we'd be at the groundbreaking for a four-year university in Flower Mound," Walker said. "That's so exciting. It will be an affordable way to get an education. You can get your two-year at NCTC and your four-year at Midwestern."
The Flower Mound Chamber also has new leadership in 2018 with Chairman of the Board Spencer Turner, chief executive officer at Texas Health Presbyterian Hospital of Flower Mound. Turner said his plan is to engage the medical community in the chamber.
Past Chair Nate Prevost of Texas Lonestar Staffing was instrumental in the success of the 2017 programs and events.
"I preach, preach, preach 'people don't do business with people with whom they don't have relationships,'" Walker said "What the Chamber has been is the place to network and make those relationships.
"We have tremendous opportunities for our businesses to market throughout the community. Our events are chamber events and business events."
Previously successful events will continue in 2018 including: the Feb. 27 State of the Cities featuring the mayors of Flower Mound, Lewisville and Highland Village; the Golf Classic in April; Leadercast Leadership Training Course in May; Unity in Communities with Lewisville and Highland Village in July; Clay Shoot in September; Fiesta Flower Mound in late October; the bi-monthly Economic Development Forums; plus periodic seminars and networking events. Also slated this year is the biennial trip to Washington, D.C., hosted by U.S. Congressman Michael Burgess.
Another continuing program is SCORE, where retired executives volunteer their time to offer free confidential counseling and mentoring and meet with existing, new and potential business owners. Walker said Flower Mound's program helped more businesses than any other in the Metroplex.
A new wrinkle on a previous program involves how businesses introduce themselves to Flower Mound. Instead of meeting at the Town Council Chambers or the Innovate Flower Mound Center to tell their stories, the forums will continue at the businesses themselves, after a successful launch late in 2017.
New for 2018 will be a series of video marketing pieces and testimonials, as part of an expansion of the Chamber's social media outreach.
"We want people to hear from other business owners and video is kind of the new medium to do so," Walker said.
Walker continues to keep 6,000 people informed about Flower Mound businesses through a weekly e-newsletter, in which she promotes just about anything a business wants current and potential customers to know about.
"I tell our new restaurants 'we are an additional marketing arm for you,' but we don't know what we don't know," Walker said. "You need to let us know the day of the week you need business to drive in, what is the time of the week, what's the day of the week."
Like the Argyle Chamber, the Flower Mound Chamber has expanded its partnerships with the schools, most notably the Lewisville ISD. It also works closely with the town's economic development staff.
"We want to deliver the best value for our members," she said. "We're excited and they're excited. To watch how this has grown up in the 20 years I've lived here and to be part of it has been great."