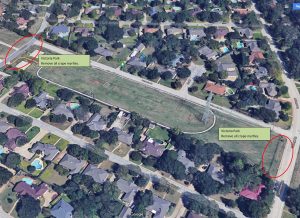 Oncor has begun removing crepe myrtles and other trees from its right-of-ways and easements in Highland Village, according to the city.
Oncor does not allow trees that are taller than 15 feet or have the potential to grow above 15 feet, and it doesn't allow lighting or sprinkler systems within its right-of-way, according to a city news release on Thursday. The utilities company does this to ensure access to its transmission lines with heavy equipment, if needed, and to ensure vegetation does not interfere with electric service.
Oncor contracted Wright Tree Service to perform the tree removal, though Oncor will have a supervisor on site at all times, the news release said. Homeowners directly impacted by tree removal were contacted by Oncor.
Click here to see the tree removal locations.