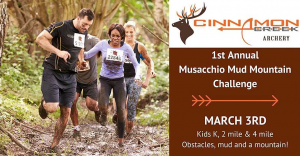 A first annual mud run event is planned this weekend in southern Denton County.
The inaugural Musacchio Mud Mountain Challenge will take place from 9 a.m. to noon Saturday at Cinnamon Creek Archery in Roanoke. There will be a 2-mile, a 4-mile and a kids 1K mud run through an obstacle course. There will be food, a beer garden and archery available for participants and spectators.
Cinnamon Creek Ranch is partnering with nonprofit Arrows for Heroes to put on the event. Arrows for Heroes aims to improve the quality of life for disabled veterans through archery. Net proceeds from the event will go to Arrows for Heroes.
The event is in honor of Charles Yardley, a military veteran who was an instructor at Cinnamon Creek and helped form Arrows for Heroes with Bob Crain, a disabled veteran who was taught how to shoot a bow and arrow, despite his Parkinson's disease, by Yardley.
Yardley died in January of cancer, and Crain aims for his legacy to live on with Arrows for Heroes.
"It's very sad that he's gone," said, Crain, chairman and CEO of Arrows for Heroes. "I miss him very much."
The Musacchio Mud Mountain Challenge aims to appeal to the public, not just archers, Crain said.
"Most people who are coming are not into archery," Crain said. "But I expect some of them will want to give it a try after this."
Cinnamon Creek Ranch has more than 80 acres of hilly countryside, "ideal terrain" for a mud run, Crain said.
"Mud runs have a lot of followers, I have learned," he said. "People like to run and get muddy."
Around 10 a.m., a band of disabled veterans will play some songs, Crain said.
Click here for more information and to register. On-site registration will also be available from 7:30-8:30 a.m. Saturday.