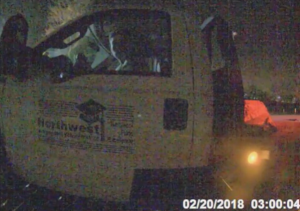 The Northlake Police Department is seeking the public's assistance in identifying a man seen on video stealing a truck.
At 3 a.m., an unidentified white male stole a light-colored Ford F-450 truck with a large Northwest ISD logo on the door from the NISD Outdoor Learning Center, 7773 Mulkey Lane, according to Northlake police.
The town of Northlake shared a surveillance video on its Facebook page of the man driving the truck through the gate, stopping and looking at the camera before leaving. The video is admittedly grainy, the town wrote, but police hope someone with any information about the suspect or the incident will contact Det. Williams at 940-648-4804, ext. 237.
https://www.facebook.com/817482914949748/videos/1833416446689718/