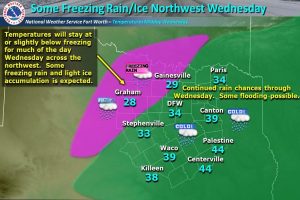 Local municipalities are monitoring their streets for flooding, and possible slick spots, as a cold rain continues to pour in southern Denton County.
The rain began early Tuesday morning and poured for much of the day and night as a strong cold front moved through North Texas, bringing cold temperatures and very heavy rainfall. Rain is expected to continue through the day on Wednesday, according to the National Weather Service.
Local municipalities are monitoring the roads for flooding and high water issues. As of late Tuesday, the city of Highland Village hadn't had any major flooding issues. At Flower Mound's intersection of FM 2499 and Gerault Road, the northbound turn lane from 2499 to Gerault had become flooded, along with Waketon Road between Timber Way and FM 2499.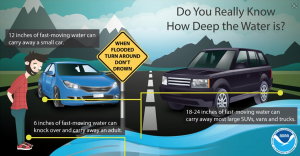 The National Weather Service flood watch for our area continues through Wednesday night, with expected rainfall totals of 2-4 inches, though more than 6 inches is possible in certain areas. As of 2:30 a.m. on Wednesday, just shy of 3 inches of rain was recorded at Denton Enterprise Airport.
The weather service also issued a Winter Weather Advisory until 6 p.m. Wednesday for possible light freezing rain.
Just one foot of fast-moving water can carry away a small car, while 1.5-2 feet of fast-moving water can take away most large SUVs, vans and trucks, according to authorities.
This story will be updated if more information becomes available.  Follow us on Twitter for regular updates.