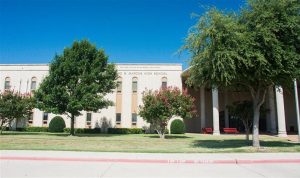 A 16-year-old Marcus High School student was arrested Thursday after police found a handgun and ammunition in his possession.
Just after 11 a.m., Flower Mound Police Department School Resource Officers received reports of a student in possession of a firearm, according to a town news release.
The student was taken out of class immediately and searched, the news release said, and officers found a small caliber handgun. It was not loaded, but ammunition was found.
He was removed from the school and placed in police custody, facing felony charges of possessing a firearm in a prohibited place.
Marcus Principal Gary Shafferman said in a notice to parents that "we do not believe the student intended to harm anyone on campus."
The student was not identified because he is a juvenile. He's accused of having a gun on campus one day after one of the deadliest school shootings in recent American history took place in Parkland, Florida.
On Thursday evening, rumors swirled regarding threats on social media aimed at Marcus High School.  Flower Mound police are investigating and do not believe the threats were credible.
FMPD provided this statement to The CTG on Thursday night: "There is a rumor circulating on social media. None of the information can be considered credible at this point. We're working to run down the origin of the rumor and have spoken to the original poster who claims to have heard it from her boyfriend who does not live in Flower Mound. We're working in concert with the FBI overnight to run this rumor down, but so far there is no information to support that this rumor is anything but a rumor designed to spread fear and panic. We will have an increased presence at MHS tomorrow. There have been no other rumors or threats at any other Flower Mound campuses at this time. No other arrests have been made, nor are any other arrests pending at this time, although the offense of "Terroristic Threat" may be filed against persons propagating false information if the origin of the rumor is found."