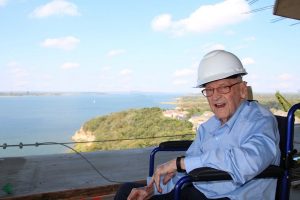 Peter Pauls Stewart was a visionary. He was also persistent. And, above all, he was a closer; meaning he knew how to bring his vision to life and convince others to help him finish his project.
In his 97 years, his accomplishments and contributions to North Texas and the Greater Dallas Metroplex are legendary; most notably, Thanks-Giving Square in downtown Dallas. Other projects he envisioned included: championing the first stretch of Dallas Parkway north of LBJ; extending Royal Lane from Central to Greenville; and, gaining northbound tollway access for Plano Parkway.
"He could be difficult to deal with," said his son, Dave Stewart, who delivered his father's eulogy following his Jan. 10, 2018 death. "He was used to being a 'contrarian,' but he wouldn't give up on a commitment. Some people couldn't see his vision … even called him crazy … but that didn't stop him."
Luckily for the area north of DFW International Airport and Lake Grapevine, Stewart had a vision.
During a dove hunt in 1973, Stewart had a vision of what would become his dearest real estate investment on lakefront acreage just northwest of the Grapevine Lake dam. The mostly rural Town of Flower Mound had a population of approximately 2,000 residents.
Stewart began assembling acreage that same year, believing the site overlooking the lake just three miles north of the airport to have a "world-class potential," said Dave Stewart.
"My father wanted to leave a legacy for people to love for generations," said son Alan Stewart in a 2015 interview.
His father's vision was embraced by the Tarwater family, who owned a major section of land the vision included.
"My pioneer family settled on 800-acres around Denton Creek in 1890," said L. Scott Tarwater, a local developer. "It was important to be near a water source to raise cattle and grow crops. The [U.S.] Army Corps of Engineers came in in 1948 and condemned our land, that's now under Grapevine Lake, to begin construction on the dam and the lake was finally completely filled by 1953."
Tarwater said Stewart had made known to his family the desire to buy the land and his vision for it. He'd guaranteed that his financial offer– when the time came to sell the property– would be generous; he was as good as his word.
"By 1984, the last member of our 'pioneering ancestors' still living in the family home was my mother, who transferred the final 14-acres to him," said Tarwater. The home had been built in 1905 by his grandfather; Tarwater and his wife, Donna, had been married on the front stone steps.
That final 14-acre parcel, of the 25-acre peninsula, allowed Stewart to gain town approval in 1986 for planned development zoning. It took another 18 years, though, to get the mixed-use zoning needed for the development of the Lakeside DFW area.
With his total 160-acres, Stewart began to think a high-rise building might one day overlook the lake.
"He always had a vision of the land on Lake Grapevine becoming a sort of 'Manhattan' on the lake," said Dave Stewart.
He was also aware that the existing two-lane dam road, which was the only access up to Flower Mound at that time, would not be able to handle the resulting future traffic that comes with growth. Stewart worked persistently– his calling card– to persuade highway authorities that a two-lane flyover was required for this brand-new road.
When a flood in 1981 overflowed the spillway and dam road, Stewart began to generate interest from governing agencies and landowners in a new route.
A flyover of Hwy 121 and the southern area of Flower Mound led Stewart to hire Roy Wilshire of Kimley-Horn to design what would become FM 2499.
"I'd worked with Mr. Stewart before, when he had a Ford dealership and the city of Dallas was trying to make changes to Central Expressway," said Wilshire. "We looked at the growth possibilities and realized a two-lane road across the dam was not going to allow the future traffic."
After the devastation caused by the 1981 flood, TxDOT and the property owners realized, "we needed to speed-up the new road," he added. "Also, the U.S. Corps of Engineers wanted us off that road on their dam."
Teaming-up with "Doc" Wilkerson [Flower Mound's second mayor], Stewart set out to create the road in a joint effort with Denton and Tarrant Counties, TxDOT, plus the communities of both Flower Mound and Grapevine.
The two men convinced all the landowners to dedicate their acres to the construction of FM 2499, which was completed in the early 1990s — when the town's population jumped-up to 15,896.
"First and foremost, Mr. Stewart was a true 'Southern Gentleman'" said Wilshire. "He just didn't want to take 'no' for an answer, once he'd decided on an option; that was it."
Dave Stewart held the same opinion of his father.
"He was always thoughtful and kind, but our mother was usually the one who implemented his great ideas for the family," he said. "He was kind of a 'preachy' grandfather; a teacher. He was a bit of a control-freak with his projects and always promoted gratitude."
He added, however, that his father had softened and "mellowed" in recent years.
"In his last year of his life, he'd call one of us or his grandkids just to chat and be more grateful to his family and those around him, which was a wonderful thing," said Dave Stewart. "His agendas had faded away and he was just more relaxed.
"His property was the last to be developed and we were grateful we were able to preserve the 'vision' he had for such a long time; decades to hold property is rare."
Wilshire said Stewart had a specific vision for the property– especially the peninsula– and held out until it was ready to be set-up the way he wanted.
"He actually built a sort of crows-nest down on the peninsula– you had to climb a ladder to get up there– just so he could see the lake and its sunsets," he said.
Lake Grapevine is unique, because it runs east-and-west, unlike other north Texas lakes that run north-and-south. That means that the nine-mile length of the lake is a perfect reflection of Texas' spectacular sunsets.
As plans for the 16-story Lakeside Tower and Lakeside Village projects began to be developed, Stewart was very satisfied, but still studying the project with his real estate mind.
"It gave him a lot of energy and he wanted to hold onto the plans for both projects," said Dave Stewart. "He could see the 'sense of place' and that something spectacular was being created. He always said the Flower Mound site was a world-class property. 'What other city has an airport close to such a beautiful lake?'"
In November 2017, Stewart was able to view a sunset on Lake Grapevine from the 10th floor of the Lakeside Tower. It was worth the wait.
A Full Life
Peter Pauls Stewart was born on May 26, 1920, in Kansas City, Missouri. He lost his mother just weeks prior to his third birthday.
He and older brother Waldo, born in 1915, went to live with their paternal grandparents, William Patterson and Jessie Ewing Stewart, while their father Harry pursued his many business interests in Houston and then Dallas.
Both boys attended Culver Military Academy and fulfilled their grandfather's dream of graduating from Harvard University. Peter, however, spent his sophomore year at the University of Texas to show his devotion to Betty May Exall of Highland Park, whom he met while in high school. The couple married on July 18, 1942.
Stewart served in the U.S. Army in Europe as a transportation officer and, at the end of World War II, he commanded the first trains (including supplies and refugees) to enter Berlin through the newly-created Soviet zone. He concluded his service as a captain in 1945.
Stewart pursued interests in real estate with help from his brother-in-law, Henry Exall, who was chairman of the North Dallas Chamber's streets and highway committee. Teaming with planner Marvin Springer, engineer Roy Wilshire, and broker Gifford Touchstone, he influenced road work to unlock the potential of properties.
As a member of the Dallas Plan Commission in the early sixties, Stewart grew increasingly interested in discussions about downtown parks.
Ideas for a "thanksgiving park" came so quickly that he always carried note cards and pens to record them.
In 1964, he recruited Joe Neuhoff, Julius Schepps, and John Stemmons to join with him to found the Thanks-Giving Foundation, which purchased a triangular-shaped site at the center of downtown in 1968.
New York architect Philip Johnson was selected to design the chapel and square, which was dedicated on Thanksgiving Day, 1976.
Stewart is survived by his five children, 14 grandchildren, 14 great-grandchildren and one great-great-grandchild.
He joined his beloved wife Betty May Exall Stewart (who died in 2009).