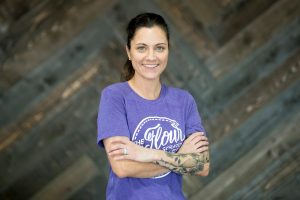 "I don't have a sweet tooth; I have a mouth filled with sweet teeth," said Pastry Chef Cara Vasquez, owner of The Flour Shop Scratch Bakery in Flower Mound. "I love dessert and I eat sweets every day."
Her friend Debra Hammett, a Flower Mound personal trainer and nutritionist, keeps Vasquez slim as a Vogue model and healthy.
With exceptional clarity, the chef understands that the human brain is a peculiar organ which can remember home-baked delights by their fresh-from-the-oven smells that once filled every square inch of someone's house.  A clever woman!
Let's see — Grandma's iced cinnamon rolls on a cold morning?  Oh wait! Aunt Bonnie's apple pie (with a gigantic scoop of homemade vanilla ice cream).  Here's a challenge: describe the torturous smell of your sister's double chocolate chip cookies, while they are still too hot to eat.
Vasquez knows that within a nanosecond of a smell-initiated memory, the recollected sights, tastes and textures will drive any normal human on a quest for mouth-watering satisfaction.
"Oddly enough, I didn't grow up tinkering in the kitchen," she said.  But her mom, a Home Economics teacher, and Lantana resident Judy Vasquez, "always cooked and baked from scratch, so I grew up knowing how good food tasted.  I was interested in baking as much as anything else."  Tex-Mex, however, is her favorite food.
As a child, she loved animals, saying, "I thought it might be fun to become a veterinarian when I grew up."
However, by the time she graduated from Duncanville High School, no particular career path captured her fancy.
"I spent an uninspiring freshman year at the University of Texas in Arlington (UTA) and worked the front desk in a beauty salon," Vasquez said, adding that she wanted to do something else, but what?
"My mom pointed out that I enjoyed baking, so maybe I ought to think about the Culinary Institute at El Centro College in downtown Dallas," she said.
Why not?  Cara enrolled.
"The first time I worked in the classroom kitchen measuring and mixing and baking, I knew this was it, I'd found my life's dream," she said.
Later that year, Jim and Cindy Hughes, the owners of Breadwinners Restaurants in Dallas, hired Vasquez as a baker.  That decision was fateful, because– upon completing the El Centro professional certification in 2002– Vasquez spent nine-years managing the Hughes' multiple baking operations.
"Of course all that time I dreamed about having my own bakery.  Jim and Cindy encouraged me.  They are my mentors."  Ideas and plans came together slowly.  "A lot of my girlfriends are entrepreneurs.  The owner of the hair salon, where I worked during my year at UTA, actually came up with the name 'The Flour Shop.'"
About eight years ago, even though she was a single career woman in a man-dominated industry, Vasquez decided to march forward into her bakery dream.  In June 2011 The Flour Shop Scratch Bakery came to life in a modest commercial quarters in The Shops at Highland Village, almost across the street from its new spacious location.
"This wasn't a one-person project," she said, "I have the most amazing parents and siblings. The bakery has definitely been a family-run operation.  My Mom and Dad do all kinds of chores around here.  Dad and my sister, who also lives in Lantana, do the accounting.  My brother handles IT for me."
While Vasquez was growing her professional career, she met and married the love of her life, husband, Herbie Rolph, who is not a baker.  After regular career hours, Rolph is the bakery's "Mr. Do It All;" evenings, nights, weekends, holidays, vacations?  You name it; he works it with a smile.
"The Flour Shop is open for business regular retail hours, but a small business is definitely a do-it-yourself operation, so we all work on call 24/7/365," Vasquez said.
Eventually the young couple and their two dogs, Zoë and Murphy, joined the Vasquez clan in Lantana by purchasing a house in the Larkspur neighborhood.
How does, say, a "scratch" bakery cake differ from a regular bakery cake?
"We don't use commercial mixes or sell products made from boxed mixes," Vasquez said.  "At The Flour Shop our big bin of all-purpose flour contains only all-purpose flour.  If a recipe calls for room temperature butter, we use room temperature butter; not shortening.  There's a place for shortening in the home baking world, but it tastes and behaves differently from butter, thus affecting the end result.  Our products taste homemade for a reason."
The staff in the bakery kitchen don't use hand mixers and small bowls, of course.
"Our 30-quart mixers are bigger, but we create our goods the same way we would at home– taking time to cream the not-too-cold butter and sugar to a smooth consistency," she added.  "We slowly mix in eggs and stream in milk and vanilla extract.  Our goal is to avoid over-mixing."
The bakery has four big commercial ovens that bake all goods to perfection.  Customers bite into light, fluffy, tender crumbs layered with great flavors.  The Flour Shop offers cakes, pies, cinnamon rolls, muffins, quick breads, brownies, cookies, Oak Cliff Coffee and Henry's Ice Cream.  Take it home in a box, bag, or cup, or just sit down at a table and consume the sweet delight on the spot.
"Our most popular pies are Key Lime, Buttermilk and French Silk Chocolate," said Vasquez.
That last item is made from Judy Vasquez' own to-die-for recipe, which her daughter remembers in mouth-watering memories from her childhood.  It looks almost too gorgeous to bite into, but what would be the point of avoiding the irresistible?
By the way, Vasquez doesn't cook or bake at home: "Herbie handles all that."
"Home is about memories, about making things, sharing them and enjoying life," she said.  "Home-baking is part of that.  It isn't necessary to be professional.  Baking is fun, so fling around the flour and go at it."
The bakery is located at 6100 Long Prairie Road, Suite 200, between Firehouse Subs and Burgers and Brats.
Stop in to test the goods and chat up the friendly staff in-person during regular business hours, Tuesday through Sunday.
Check out the menu at: www.ilovetheflourshopbakery.com, or call 972-355-3600, while orders should be placed at: 972-966-CAKE (2253), or [email protected].