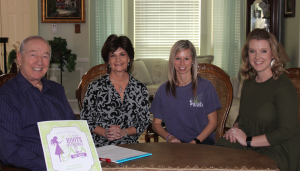 Missy Phipps is the Co-Founder and President of Ally's Wish Inc., a nonprofit corporation organized and operated exclusively for charitable purposes. Specifically, the sole purpose of Ally's Wish is to provide a last "wish" to young, terminally ill mothers with small children. The organization hopes to provide a memory for the family that will last a lifetime. Their goal is to do this by providing services, gifts, transportation, lodging, or any other "wish" the mother may have. They will provide this through fundraising and donations given through Ally's Wish, Inc. Ally's Wish is a 501c3 approved organization.
Ms. Phipps is a native of North Texas and is a real estate agent for Keller Williams Realty in Flower Mound. The mother of 4 loves to craft, run and enjoys making happy memories with her children. She also enjoys singing and serving on the worship team at her church. The Ally's Wish Organization is administered by 4 women; Missy Phipps; Melissa Carey, Co-Founder and Vice-President; Kelly Wolgamott, Treasurer and Nicole Notagiacomo, Secretary. During the interview, Ms. Phipps talks about the origin of Ally's Wish and the people who have been served by this compassionate organization. The inspiration for Ally's Wish came from Allyson Hendrickson, who recently lost her battle with cancer. The following is an excerpt from her story that can be viewed online at: www.allyswish.org
"The story of my walk with Christ began when I was only 6 years old. I wasn't old enough to have a long track record of sin, but I understood enough to know that I needed Jesus.
I grew up in church, and my journey was pretty typical. There were no major tragedies or crises–until just a few years ago, when I was diagnosed with ovarian cancer. Surgery took care of the tumor at that time, but last February I received the devastating news that the cancer had returned and had spread to several places in my body. I had a major surgery and long hospital stay, followed by intense chemotherapy treatments. Now, over a year later, I am still undergoing treatment on a regular basis. I have been told that, in spite of the aggressive treatment, the cancer will almost certainly come back at some point.
"Cancer has turned my safe little world upside down. I lost my dignity, my hair, and my confidence. I have been sicker than I ever imagined possible. I have listened to my husband and my children cry. I have missed out on a lot of life while I lay in bed. But the one thing that has remained the same is my Jesus. Even on the worst days, when I thought it would be better if I could just die, my God was there. I have been angry and shaken my fist toward the heavens, and He still loves me. I have grieved the loss of the old me, yet He has kept his promise to "do something new" (Isaiah 43:18)."