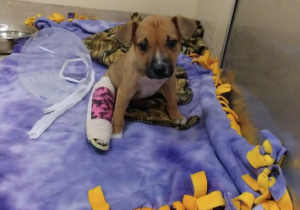 Noel and Holly, two injured pooches taken in by Flower Mound Animal Services in December, have found their fur-ever homes.
On the morning of Dec. 8, a little female puppy with a broken leg was dumped at the animal shelter's front door, said Christine Hastings, Flower Mound's Animal Services manager, in a December interview. Staff later reviewed surveillance video and saw an unidentified person set the puppy down and "took off running."
Staff took the puppy, a 2-month-old shepherd/lab mix they named Noel, to Main Street Veterinary Hospital, who set the pup's leg and gave her a cast. She would need further treatment and re-casting for almost two months before she could be adopted.
Her long stay at the Flower Mound Animal Shelter has ended, as she was adopted this week, according to the Animal Services' Facebook page.
Late the same night Noel was left at their door, Animal Services got a call of a stray dog that was hit by a car on FM 1171. The friendly dog, named Holly by staff, couldn't walk, Hastings said. She had a fractured pelvis and tailbone and a dislocated hip.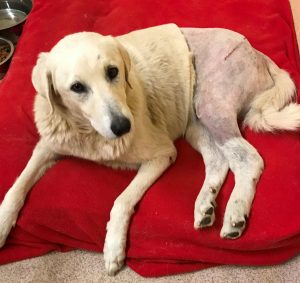 Staff posted her photo on social media to try to find her owner, but none came forward so the shelter took her to Animal Medical Center of Highland Village for surgery and treatment. She required much more treatment for the next six weeks or so, but late last month she was made available for adoption. Her new family adopted her on Jan. 22, according to Flower Mound Animal Services' Facebook page.
It's rare for animals to end up at the Animal Adoption Center with a serious injury — Hastings guessed it happens only about once a year — and their medical treatment is expensive. Fortunately, both veterinarian hospitals gave Animal Services discounts for their services, but the town's allotted funding still didn't cover all of the medical expenses.
That's where local residents came in.
Animal Services is using donations from the community to their Animal Care Fund to help cover the costs.
"All the donations we receive from the public only goes toward the animals," Hastings said. "It helps supplement large expenses like this."
Residents who'd like to donate to the Animal Care Fund can mail a check to the Animal Adoption Center (3950 Justin Road, Flower Mound, TX 75028) payable to Flower Mound Animal Services, or they can stop by in person, where cash, check, or credit is available to make a donation.