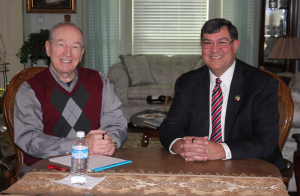 Seldom have we seen such a robust coterie of Republicans challenging each other for elective office positions. The GOP ballot in Denton County will be filled with selections for voters to choose from. That's why it's important to learn as much as possible about the candidates before making your selection. Mailing campaign literature to registered voters is one way to provide name recognition and a list of political positions held by each candidate. Signs posted along the roadways and on the lawns of supporters also help voters to remember that there's an election coming up and to identify with the people who will be on those ballots.
As for video interviews, they allow voters to see and hear directly from candidates, plus, they provide a form of communication known as "body language." The videos are completed in one 10 minute (approximate) session and are not edited. Judge David Garcia is running for the Republican nomination in the March 6 primary, in his reelection campaign for County Criminal Court #3. He came over for an interview to talk about his reasons for running and some of the functions of his court. The information below was taken from his website. For more info: www.reelectjudgedavidgarcia.com
"Judge David Garcia has served as the presiding Judge of the County Criminal Court #3 in Denton County, Texas since his appointment on September 1, 1997 and the presiding Judge of the Denton County Veterans Court since November 2012.  He received a Juris doctorate degree from the University of Texas School of Law in 1984 and a Bachelor of Arts degree from Texas Tech University in 1981.
"Prior to taking the bench he was in private practice in Denton, Texas.  He has served as Chair of the Judicial Section of the State Bar of Texas, Chair of the Texas Center for the Judiciary Inc., Judicial liaison to the State Bar Board of Directors and the Texas Bar Foundation board of directors, and as Dean of the Texas Judicial College for the Study of Alcohol and other Drugs.  He has been a member of the Court of Criminal Appeals Judicial Education Committee since 2008.
"In 2011 Judge Garcia was presented with the Chair's Award of Excellence in recognition of his outstanding service to judiciary.  In 2012, Judge Garcia was the recipient of the Exemplary Article Award for a paper he co-authored on Breath and Blood Testing, and the Effects of No Refusal Programs on the Courts.  He is also a member of the Judicial Section of the State Bar of Texas and is currently serving as the Secretary-Treasurer of the organization, he serves on the Judicial Advisory Board for the Texas Association for Court Administration, the Denton County Bar Association, the National Association of Drug Court Professionals, Texas Association of Drug Court Professionals and the American Judge's Association.
"In March 2017, Judge Garcia received the American Counseling Association's Federal Legislative Service Award for his work with Veterans in the criminal justice system.  Judge Garcia has served as a faculty member and has lectured at multiple judicial and legal education conferences.  He has spoken at many local organization and agencies, state and national conventions on Veterans Treatment Courts and how the Criminal Justice system had become trauma informed to better understand and deal with justice involved veterans.  Judge Garcia has also served on several judicial legislative and curriculum committees and other state-wide committees affecting the judiciary.
​"Judge Garcia has previously served on the Board of Directors for CASA, Denton County Friends of the Family, Denton Boys Baseball and is currently serving as the Treasurer on the Board of Directors of the Health Services of North Texas, coached youth baseball and basketball, and has served as the Director of the Special Needs Ministry for over 15 years at Denton Bible Church.  Judge Garcia was born and raised in El Paso, Texas and has been a resident of Denton County since 1985.  Judge Garcia two grown children and three grandchildren."
As a point of information, 91% of the veterans who enter the veterans' treatment program graduate. In addition, 98% of the 50 graduates who have availed themselves of the program have not been back in court. Therefore, there has only been one recidivist out of all those who have had their cases handled by this court.
Bob Weir is a former NYPD officer, long-time Flower Mound resident and former local newspaper editor.