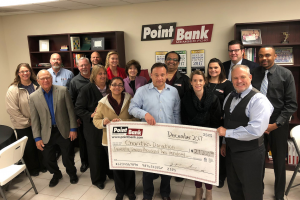 More than two dozen local charities received a helping hand from a familiar donor this December when PointBank donated more than $27,000 to organizations doing good in the local community.
The donations were raised during PointBank's annual golf tournament and distributed to 25 charitable organizations throughout Denton County. Some of those nonprofits include area food banks, Christian Community Action, Hearts for Homes and Health Services of North Texas, according to a news release.
"These 25 charities represent the heart and soul of our community. This is our way of saying thank you to each and every one of them," said PointBank CEO J. Raymond David Sr. "Just like we want customers to immediately feel warm and welcome when they come into one of our nine branches, we want to have that same relationship with our community."
PointBank is Denton County's oldest community bank and has grown from a single-location bank of around $18 million in assets to nine locations and roughly $475 million in assets today, the news release said.
"This is who we are," said PointBank President Ray David, Jr. "This is a family-run business, and you have to remember that our employees live right here in the community as well. That is proof that we're all invested for the long haul. We want everyone to know how grateful we are to be part of this community. These donations are just a small token of our appreciation."