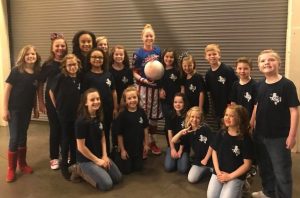 In front of an audience of nearly 10,000, Liberty Christian School students in 2nd to 6th grade performed "The Star Spangled Banner" at the Harlem Globetrotters evening game on Jan. 27 at the American Airlines Center in Dallas.
Jennifer Freeman of Lantana, the Lower School music teacher, auditioned students earlier in January and selected 18 students for the ensemble.
Students participated in four rehearsals and learned to sing three-part harmony. At the Globetrotters, more than 100 family members and friends from Liberty Christian School cheered them on in the arena.
The following students were chosen to perform: Kimber Anderson, Preston Bryant, Julia Collins, Sadi Conner, Ewan Curtis, Paige Donovan, Ella Kate Freeman, Emma Grace Freeman, Hallie Henson, Kamille Isom, Makayla Jost, Grace Machado, Addison Randolph, Palmer Sheldon, Addison Stoner, Addyson Williams, CJ Witten, and Micaela Woodson.
"I adore these children, and I am so thankful God allowed us an opportunity to showcase their talents and gifts outside of school," said Mrs. Freeman. "I am truly proud of all of them and can't wait to see how God is going to grow each of them in the future."