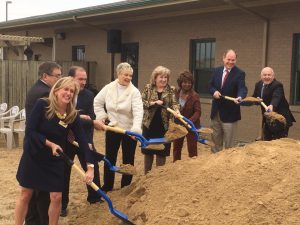 The Children's Advocacy Center for Denton County broke ground Friday to begin expansion of its Lewisville facility.
The planned expansion, which adds 11,000 square feet of new space and 3,000 square feet of renovated space, will allow the Center to continue providing services to abused children and their families in the rapidly growing county. During 2017, the Center saw a 35 percent increase in cases, according to a news release.
"Today we begin to build a building where families will go when they receive the terrible call letting them know a crime has been committed against their child," said CEO Kristen Howell. "The call that turns their whole world upside down. In this building children will discover they are not invisible or damaged. They are seen, heard and they will be whole. They will find that this is a building where they will reclaim their power."
The expansion project will double the space for direct services at the current site, including interview/observation rooms, play therapy spaces, partner collaboration areas and group and individual therapy rooms.
The architect for the expansion project, Eikon Consulting Group, and the contractor, Denco Construction, were on hand for the groundbreaking. The project is expected to be completed in January 2019. For more information on Children's Advocacy Center for Denton County, click here or contact Mimi Bishop at 972-538- 9612.