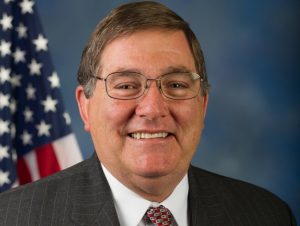 Dr. Michael Burgess was in a booth in the dining car, talking to two other GOP Congress members as they headed to a policy retreat in West Virginia on Wednesday.
But suddenly he heard "a big bang and the train came to a sudden stop" from about 50 mph. People standing up in the cars fell down. Burgess saw smoke and smelled something like an electrical fire.
"At first I thought someone did something deliberately to harm the train," Burgess said. "Then I saw the debris and knew it was an accident."
Hundreds of U.S. lawmakers and some of their family members and staff were aboard the chartered Amtrak train the morning after President Donald Trump's State of the Union address, headed to a strategy retreat at the luxury Greenbrier resort in White Sulphur Springs, West Virginia, according to the Associated Press.
About 11:20 a.m., the train slammed into a garbage truck in rural Virginia on Wednesday, killing one person in the vehicle and sending several lawmaker-doctors — including Burgess — rushing to help the injured.
Burgess, who practiced medicine before his political career, said in an interview Thursday that he immediately went to get off the train and rushed to the vehicle struck by the train. He said he saw one person had already walked away from the truck, and two others were on the ground outside the truck.
"I went to one man and saw he had a significant facial injury and was unconscious," Burgess said.
Burgess, who represents most of Denton County in the U.S. House of Representatives, and others rendered aid to the man with minimal equipment. They provided physical support, made sure his jaw was forward and kept his airway open — including using a tracheal tube — until paramedics arrived to take him to the hospital.
Burgess said he then saw the other victim on the ground about 50 feet away who had much worse injuries. He was soon pronounced dead at the scene. The trash company, Time Disposal, identified him as Christopher Foley, 28, and said he was the father of a 1-year-old boy. Six others were injured, according to the AP.
The train was badly damaged and towed backwards to Charlottesville. Some buses were called to continue taking the lawmakers to the retreat. The retreat runs through Friday, but Burgess said the accident was "unsettling to my family," and he was headed back to his home in Lewisville on Thursday to be with them.
Burgess reflected on the tragic accident knowing that "it could have been worse." The train crashed near a steep embankment in a hilly area in Crozet, and if it had derailed more, Burgess said it would have been a "much more significant accident."
"I can't help but think, the young man who didn't make it, he left his family to go to work and didn't come home," he said.
"Today is a tragic day for those who were hurt," he said in a statement on Twitter shortly after the accident. "Please continue to pray for victims and their families."