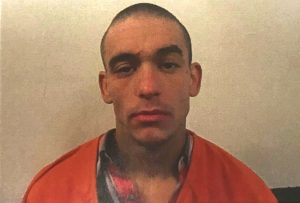 A man suspected of many vehicle burglaries — and one vehicle theft — in Flower Mound was recently caught in Oklahoma, according to police.
Adam Michael Evans, a convicted felon with a fairly long rap sheet from the Flower Mound area, was suspected of committing more than 20 vehicle burglaries in Flower Mound in less than a month.
At least 12 vehicles were broken into and a Toyota pickup was stolen between Dec. 19-27 in two areas: southwest of Morriss Road and FM 1171, and around Kirkpatrick Lane near Prairie Creek Park, according to Flower Mound Police Captain Wess Griffin. During a second spree, 11 more vehicles were burglarized between Jan. 6-8 in the general area of northeast of Morriss and 1171. Evans is a suspect in all of these.
Late on Jan. 8, Evans, 27, allegedly drove the stolen Toyota pickup to Wayne, Oklahoma — a small town just south of Oklahoma City — where he abandoned the pickup and some of the stolen property to steal a Dodge pickup, according to an arrest warrant affidavit from the McClain County Sheriff's Office. The owner of the Dodge pickup told police he looked outside to see Evans, armed with two firearms, jump in his pickup and drive away.
Evans was spotted in the Dodge pickup in nearby Purcell the next day and led officers on a pursuit, the affidavit said. He wrecked the truck and fled on foot, temporarily escaping authorities.
The next morning, Jan. 10, Purcell police saw Evans in the backyard of an abandoned house and took him into custody. He was apparently staying in the abandoned garage and had some of the stolen property with him in the garage.
Police have been able to return some of the stolen property to 20 different victims, Griffin said.
Evans faces charges of bringing stolen property into the state, larceny of a motor vehicle, possession of a firearm while in the commission of a felony, possession of a firearm as a convicted felon and obstruction by the McClain County Sheriff's Office. After he completes the judicial process for those charges, he will be charged by Flower Mound police for burglary of a motor vehicle with two or more previous convictions, theft of a firearm and theft valued $2,500-$30,000, all state jail felonies.