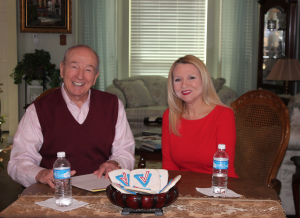 As we make our way toward the March 6 election primary the tension is mounting and the candidates are campaigning in myriad ways. From door-to-door introductions, to literature in the mail, to debates, social media, fundraisers and meet and greets, those stalwart members of our local communities are indefatigable in their pursuit of public office. At the federal level, 8-term incumbent Congressman Michael Burgess (R-26thDistrict), running for his 9th term, is being challenged by Veronica Birkenstock, a resident of Frisco who is making her first run at elective office. During the video interview Ms. Birkenstock talks about her background and her reasons for wanted to be a member of the House of Representatives. The following info is from her campaign website: www.v4congress.com
"Veronica Birkenstock is a passionate conservative and Lifetime Member of the NRA, who only knows one way to operate – and that is to get things done. Veronica was raised by her devoted mother and a father who, after serving in the Army, returned to the family farm. It was her humble, yet impactful family which instilled her Christian values and appreciation for those who have chosen to serve in protecting Americans and our freedom. Whether it is with her faith, her family, as an entrepreneur and small business owner, or as an advocate in our communities and for those who cannot advocate for themselves, Veronica is known to stand up and fight for what is right.
"Veronica – known as "V" by her friends – has had enough of the promises and do-nothing Congress who is more interested in being re-elected than doing what they said they would do. V is determined to take her spirit to Washington to represent District 26 and get it done. Veronica and her family attend Elevate Life Church in Frisco, Texas. V is a member of the Keith Craft Mastermind Group, which is much like a board of business advisors for each other to make decisions for their respective businesses, all through a Biblical worldview.
"Veronica has 15 plus years of executive level human resource leadership in the hospitality industry. She is President and owner of Practical Employee Solutions (PES) – the company which she established here in Texas. She founded PES in 1996 which provides legal temporary labor – specializing in the H-2B visa processing.
"The story of how V started the business has its roots in the Reagan Administration. In 1986, while working as a Director of Human Resources, President Reagan said that as part of the Immigration and Control Act, any business found to hire illegal aliens in the U.S could face civil and criminal charges. A believer in the rule of law, V found the legal ways to work with that law and help keep her employer successful using the legal, yet complicated H-2B visa program – saving many jobs.
"In doing so, she had to learn to navigate the Departments of Labor, Transportation and even the EPA. She even worked with legislators to provide input for her employer, and others like them, to remain successful. V was finding that a number of U.S. businesses were struggling to stay in business due to the nature of seasonality of their industry and ability to find the labor to fill those jobs. It was her entrepreneurial initiative which saw an opportunity for an expert in this business niche. Today, PES has grown to support numerous U.S. businesses across the country – including 48 right here in District 26.
"Veronica is happily married to Brian Birkenstock and they live in Frisco, with two of their three children. Their oldest son, Walt, got married last October and lives in North Carolina.  Their two other children Andrew "Drew" and Lauren who are brother and sister, were adopted and saved from what was previously a very difficult life.  Drew enjoys sports of all kinds, Lauren is really enjoying gymnastics and tennis, and of course there is (our dog) "Smudge."  They are all fortunate and thankful that God has brought them all together."
Bob Weir is a former NYPD officer, long-time Flower Mound resident and former local newspaper editor.