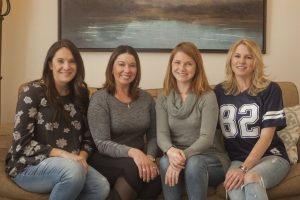 When Jessica Burrows launched NextGen Counseling in December 2013, she worked by herself in a small second-floor office in the Bartonville Town Center.
Her initial goal was simple – help a small number of teens cope with the challenges of growing up. Trouble was, her reputation grew so fast she could no longer handle 90-100 monthly sessions alone and at the same place.
"I didn't anticipate it growing like it did," Burrows said. "I figured it would be just me and a few clients. If I could cover the overhead, I'd be happy. Obviously there's a need in the area."
So less than one year later, she brought in another professional and in February 2015 moved to a larger facility in Flower Mound. Today her four-person team handles about 70-100 weekly clients with continued growth.
Burrows' first hire was licensed professional counselor Erin Payne, who started part-time in October 2014 and went full-time last June. In September 2015, Stephanie Garner, a licensed clinical social worker came aboard. Then in December 2016 she brought in Serena Trimmier as a licensed professional counseling intern who went full-time last March.
"These girls run the show here," Burrows said while sitting on the same bean bag chair she started with in Bartonville. "I'd be lost without these three girls. And they know it. They amaze me every day with their dedication and love for helping others."
With the growth and inherent pressures of social media and technology, there's more of a need for NextGen Counseling's services. In fact, NextGen may be moving again later this year closer to Highland Village and may add another professional.
All three of Burrows' hires had worked elsewhere and were seeking to work with teens and younger in a private practice. They found Burrows through the internet and have stayed with her due to her laid-back demeanor and fun-loving personality.
"That was my philosophy from Day 1," Burrows said. "I wanted a place where kids could come and feel safe and just be themselves.
"In this area there is so much external pressure and you can only have so much of that before you actually start to struggle."
NextGen now offers services for adults and teens. If you or a loved one are in need of counseling, please feel free to visit their website, nextgencounseling.org, or call them today at 940-228-2171.