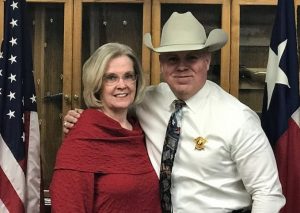 Former Republican County Chair and current County Commissioner Precinct 4 candidate Dianne Edmondson announced that she has received an endorsement from Sheriff Tracy Murphree.
"Dianne Edmondson has been on the front lines of conservative issues for many years.  Dianne is a staunch supporter of Law Enforcement and understands the challenges Law Enforcement will face in the future.  It's important that my office works hand in hand with Commissioners Court to ensure the safety and security of Denton County citizens.  I know I can count on Dianne.  I support Dianne in her desire to be County Commissioner Pct.4 and look forward to working with her and our new county Judge Andy Eads for years to come," Sheriff Murphree said in a press release from the Edmondson campaign.
Edmondson says she is thrilled by the endorsement, adding "I am honored that one of the most respected and admired elected officials in Denton County has given me this amazing endorsement and I pledge to do everything I can as Commissioner to assist Sheriff Murphree in keeping Denton county residents safe."
Edmondson noted that Sheriff Murphree is presently participating with ICE to see that federal immigration detainers are honored, and says that she sees illegal immigration, with its accompanying crime, is a problem that counties must also face.
"I am the only candidate who is discussing the 287(g) program as it pertains to Denton County," Edmondson said, "and is one of ICE's most important partnerships in ensuring consistency in immigration enforcement across the country, and I applaud Sheriff Murphree for his partnership with ICE in this effort. Should there be an opportunity for an even higher level of partnership in our county, I would be fully supportive."
Both Sheriff Murphy and Edmondson report that the ICE agreement does not racial profiling or unwarranted surveillance, but rather helps check the background of persons arrested for any criminal activity.
"I had listed strongly supporting Denton County law enforcement as a priority in my initial news release, and this endorsement by Sheriff Murphree is validation of that priority and my intention to do so," said Edmondson.
Edmondson is one of four candidates seeking the Republican nomination in the March 6 Primary Election.