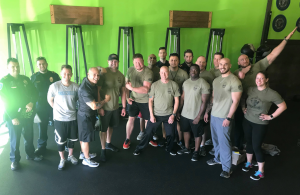 If you're looking for personalized fitness training that motivates you to reach the goals that many find elusive, if not impossible, look no further than Jesse James Fit at 1001 Cross Timbers Road in Flower Mound. With a staff of professional fitness trainers and a first class workout facility, you will have everything you need to reach the fitness level you've always desired.
Jesse James Leyva, President and elite trainer of this lifestyle-changing program of health awareness, came over for a video interview to talk about some of the training he does with police officers. The info below is taken from his webpage: www.jessejamesfit.com
"At Jesse James Fit, we believe that big life changes start with small steps. While the step out of your comfort zone and into a new way of life is not always an easy one, it is vital to the longevity and quality of your life. The mantra at our fitness center is "Strength, Passion, Discipline"; to be successful you must have the inner strength to overcome your struggles, the passion to be inspired each and every day, and the self-discipline to stay on the track to meet your goals. At Jesse James Fit, we strive to be a positive influence in your life and our goal at our fitness center is to work with you throughout your entire transformation. We take pride in knowing that we play a significant role in changing the lives of our clients.
"Our Little Elm location works closely with the town of LE and we have many police/fire who are members at our facility. Last year, as you may know, LE SWAT lost a Detective Jerry Walker and we were all devastated by the news. Some of our members wanted to start raising money for the family so we put together a gofundme for fallen officer Det. Walker. In two weeks we raised $61k and contributed that donation to the ATO assist the officer foundation so they could distribute the funds for his family.
"With the one year anniversary of JW passing 01.17 we felt lead to do something as our company is in full support of backing our blue and care about their health and wellbeing. One of our officer members approached us about helping put a plan together for the SWAT and we jumped on the idea. Since our challenge was coming up we decided to sponsor the SWAT team to join us in the 6 week challenge. Monday January 22nd we invited the SWAT team to enjoy a private boot camp with Jesse and our team as well as a nutrition Q&A. Over the next 6 weeks those from the SWAT who wish to participate in our challenge can do so and we are offering to match up to $200 to their winner.
"We are honored to be a part in helping these men and grateful for their service! SWAT will have full access to our Little Elm Outlaw Bootcamp location to take classes during the 6 week challenge and we are adding in an additional XTREME! class for them to take advantage of. To help with their endurance and provide beneficial nutritional information, as well as weekly weigh in's, our goal is to provide an opportunity for optimal health and endurance fitness training."
Bob Weir is a former NYPD officer, long-time Flower Mound resident and former local newspaper editor.