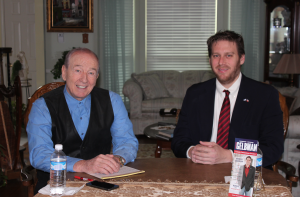 As we move closer to the March 6 primary, candidates are hitting the bricks, putting their nose to the grindstone and pounding the pavement, to use a few metaphors that describe the hard work of campaigning for elective office. In one of those offices, Denton County Commissioner in Precinct 4, there are four candidates running in the Republican primary. Jim Carter and Brenda Latham were interviewed two weeks ago and Dianne Edmondson is scheduled for next week. My interview this week is with Itamar Gelbman, a former Councilman in Flower Mound. In the video interview Mr. Gelbman talks about his background and why he wants to be a Denton County Commissioner. The following info is from his campaign website: www.votegelbman.com
"Itamar Gelbman was born in the United States of America. When he was a child his parents moved to Israel. Gelbman started his Bachelor of Science degree at the age of 16. He completed his degree with a double major in Business Management and Computer Science at the Latvia University of Israel. Gelbman was recruited as a reserve police officer and joined the Israeli Police Department to fight crime against underage citizens. Gelbman then joined the Israeli Military. He entered as a 2nd Lieutenant and exited as a 1st Lieutenant serving in the Army's Special Operations Unit. Gelbman was honorably discharged in 2004. Currently, Gelbman serves as a 1st Lieutenant in the Texas State Guard.
"Gelbman moved back to the United States and shortly after founded his first of several businesses: 3GI Corp. In 2010 Itamar founded Gelbman International, a security and body guarding company which over the years has provided body guarding services and security consulting for high profile clientele including, Will Smith, Britney Spears, Gary Sinise and Condeleezza Rice. Gelbman advises law enforcement agencies on counter-terrorism, active shooting and military/police tactics strategies. Gelbman comes from fighting stock. Both his parents and his older brother served in the Israeli Army. All four of his grandparents escaped from Nazi capture during WWII. His grandmother was the family's lone survivor from Auschwitz death camp and his father's parents leaped from a train taking them to Treblinka.
"Gelbman served on the Flower Mound town council between 2015 and 2017. As a council-member, he sponsored one of the toughest anti-sex offender ordinances in Texas. Gelbman also voted against expanding Eminent Domain, for Zero Budgeting and for lowering property taxes.
While serving on town council, Gelbman worked to get a local double amputee Purple Heart recipient a free smart home through the Gary Sinise Foundation. Gelbman was the only council member in Flower Mound's history to receive an endorsement from Empower Texans, an advocacy group for fiscal conservatives.
"Gelbman's wife, Charisse Davidson-Gelbman, is a board-certified small animal veterinary surgeon servicing the family veterinarians of Denton County. Together, they live in Flower Mound with their 4 children: son Micah, daughter Kiele, and twin sons Nathanel and Abraham as well their dog-duo, Liberty a Chocolate Lab, and Cork, a Great Pyranose mix. Gelbman is a lifelong Conservative Republican. He is a member of many Republican clubs and serves on the young leadership board of the Republican Jewish Coalition. He is a NRA life member and an active volunteer with the Gary Sinise foundation, building smart homes to house severely wounded veterans."
Bob Weir is a former NYPD officer, long-time Flower Mound resident and former local newspaper editor.